Twist, Twirl And Turn Up The Heat With Lessons From This Latin Dance School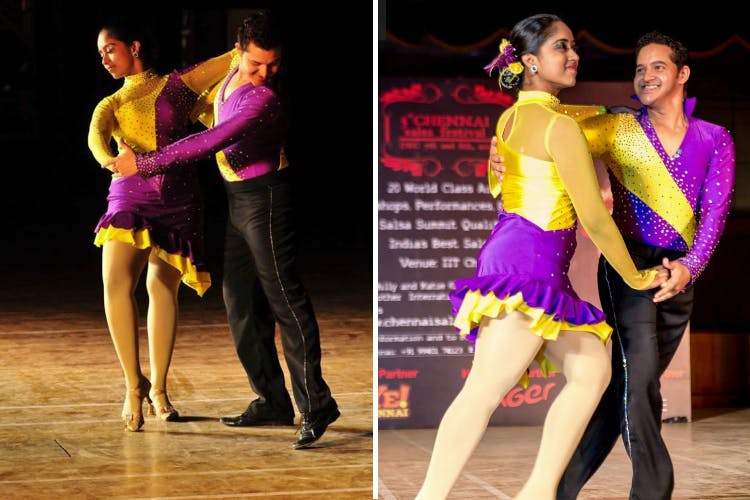 Shortcut
Learn to dance the way the Latinos do at the ShArA Dance academy in the heart of Jayanagar.
What Makes It Awesome
The rather intimate style of Latin Dance (an all-encompassing term for Salsa, Bachata, Jive, Tango, and other formal or folk style of partner dancing) can be intimidating for some of us, but the folks at shArA Dance academy will wipe that fear away while whipping you into shape. The academy also teaches styles of Merengue, Cha-Cha and Waltz.
Located in the heritage home that used to be Sweet Chariot opposite the Jayanagar Police Station, the academy grew from the love of the dance and the need to provide an intensive yet individual focused training space for learners that want to go beyond the basics. Teaching well beyond the basics, the classes are completely customisable and promises to focus on overall fitness and posture. The instructors at shArA will provide training in either just one style, or a basic 10 hour 'Latin Dance' crash course along with theory lessons. Unlike most dance schools, they take students in through the year as long as there's a slot available.
Apart from their usual classes, they also have a 15 hour 'First Dance' (or social dancing at more formal weddings) course which includes lessons in all of the available styles, as well as a choreography of your First dance should you want to have one at your own wedding. Much older couples can sign up for Latin Dance lessons for senior citizens (hey, it's never too late to learn something new!). No prior dance experience needed for any of the classes. Prices for the regular classes start at INR 2,200 per head for 5 hours (no, you don't need to bring a partner), the crash course at INR 1,800, and the First Dance course at INR 18,800 all inclusive. So, shall we dance?
Pro-Tip
Take a pair of socks with you, as shoes will be provided.