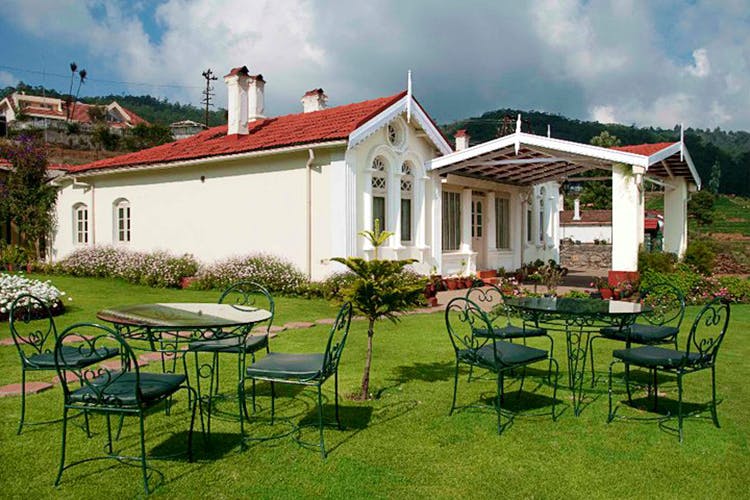 Drop Everything And Head To This Sherlock Holmes Inspired Ooty Homestay With The Gang
Shortcut
Rub shoulders with Irene Adler, Dr Watson, and Sherlock Holmes himself when you check into this quaint cottage tucked away from the hustle and bustle of Ooty's township. Oh yes, Sherlock is a true- to-the-books Holmesian-inspired cottage.
Elementary, Dr Watson
Sherlock occupies a century-old mansion that's rich in Victorian-era architecture. Enter period-style rooms complete with fireplaces, parquet floors, and beamed ceilings, as well as all the modern amenities right down to free WiFi. Oh, and did we tell you that the rooms are named after Sherlock Holmes adventures? Blue Carbuncle, Irene Adler, Gloria Scott, and all make an appearance here. The rooms come with either seating, garden, or a mountain view, and we don't think you need us telling which view is the best of the lot, right? It's the mountain view rooms. Misty mornings and orange evenings are what you get.
The Menu Cards Are On The Table
Sherlock is known for dishing out absolutely delicious menu that you can feast upon. Breakfast, lunch, and dinner are all made fresh with local ingredients, and served in the aptly named Adler Dining Room. Perfect in every sense, the dining room replete with Victorian furniture and china, so that you feel like you are dining at a lord's house.
Adventures Abound
Old-school brick chimneys, dining room with sunroof, and Victorian furniture spread around the house give this cottage a rather old-world charm. You can simply stroll inside the manion and look into Mr Holmes' life through photographs and books or simply lounge on the almost perpetually mist-sprayed lawn and enjoy a nice cup of tea. Did we tell you that the lawn overlooks a beautiful valley below?
Although tucked away from the hustle and bustle of the Ooty township, major touristy spots are just stone throw's away. You can enjoy a rather colourful stroll through the sweet-smelling Rose Garden and the beautiful Botanical Gardens, visit the lakes or bury your nose in a book at the Wenlock Downs.
Comments