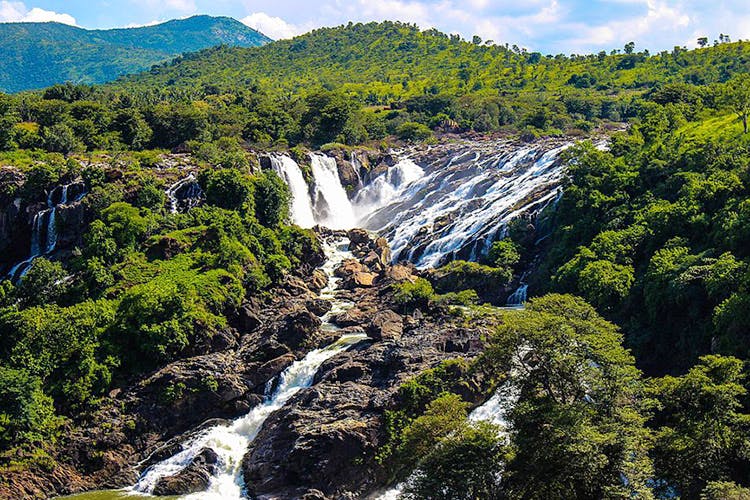 Hit Up This Popular Waterfall Near Bangalore For Picnics, Views And Adventure
Shortcut
A popular one-day trip destination amongst many Bangaloreans, Shivanasamudra Falls is where you need to set your GPS to on your next road trip with the squad.
What Makes It Awesome
Ever popular and part of our 'waterfalls near Bangalore' series, Shivanasamudra Falls is where you need to plan your next road trip too. Located in the Mandya District, these are twin falls formed by the Gaganachukki and Bharachukki tributaries. And quite the jaw-dropping view they make if you are standing atop the gorge.
In fact, if you want to get the best view of the Gaganachukki Falls, which is the most photographed of the two, you need to head to the viewpoint. Don't forget to grab your camera! Oh, and please do pay heed to the warning signs if you are planning on heading down to the bottom of the falls. The rocks are pretty slippery and can get dangerous. The Bharachukki Falls, on the other hand, is more spread out and offers you a panoramic view of the place. You can dip your toes here, relax, and enjoy the cool waters.
The twin waterfalls are a major attraction and beyond that there isn't much you can do, but the waterfalls are home to one of Asia's oldest hydro-electric plants. Sri Ranganathaswamy Temple and Sri Someshwara Temple are nearby and you can visit these to see Dravidian style architecture and for photography for your travel journal.
Pro-Tip
If you have got some time on hand, you can set your map to Talakadu which is about an hour's drive away. The river banks of Talakadu are perfect to lay out your picnic basket and unwind before you make your way back to the city. We hear that in season, the river is perfect coracles rides, but the locals in the area advise against it owing to the lack of safety. There's plenty of temples to explore in the Talakadu area if you are looking to add some history to your adventure trip.
Comments