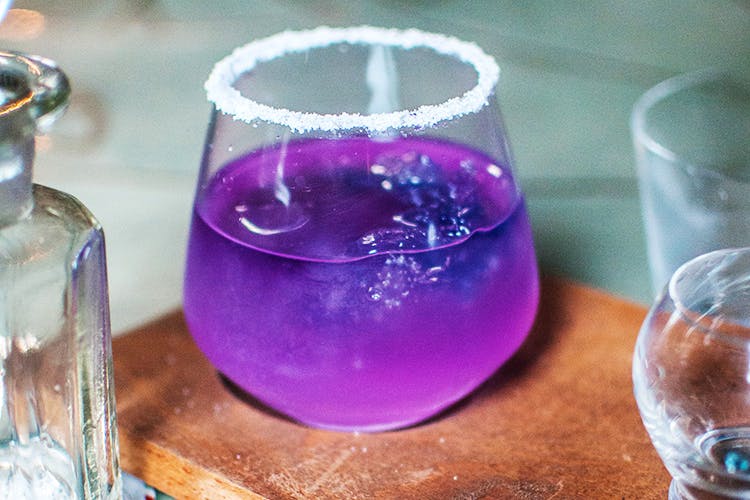 Hattori Hanzo, Okonomiyaki And Asian Shophouse Vibes At This Whitefield Restaurant
Shortcut
The menu at Shizusan goes beyond the usual Thai curries and sushi, with thick fluffy okonomiyakis, laksa style lotus stems, and Dan Dan Mian noodle bowls. And you can't leave without trying one of their signature cocktails.
What Makes It Awesome
Located inside Phoenix MarketCity, you will forget you are in a mall. Conceptualised and designed along the lines of an ancient 18th century Asian shophouse, where plenty of opium and tea dens were the norm, with the exit of colonists, some of these dens were transformed into budget eateries for comfort food. Bringing that vibe but in modern surroundings is Shizusan with a menu that covers Japan, Vietnam, Malaysia, Thailand, Philippines and Korea.
The sushi, sashimi, nigiri, dim sum, gyoza and bao are all good with safe as well as adventurous options, but the starter we gave our heart to was the Penang Laksa Spiced Lotus Stem. Crunchy lotus stem tossed in a sweet and spicy, coconut-ty paste; this was followed by the really succulent Japanese-style roasted Yuzu chicken. If you're not in the mood to think, blindly choose any of the dim sums; they're all succulent, flavourful, and oh-so-satisfying! The Osaka special Okonomiyaki, a fat, savoury pancake stuffed with shrimps, chicken, cabbage, pickled ginger and egg, and drizzled with okonomi sauce and kewpie (Japanese) mayo was an instant hit with us.
For mains, there's Laksa, Massaman, Rendang, and Thai curries to pick from. The Thai red curry here comes with the surprising flavours of pineapple and bamboo shoot along with the usual chicken and other ingredients, and their massaman curry comes with a juicy piece of lamb practically falling off the bone (and marrow). The Gochujang Buri Bop is a dramatic dish served in a traditional metal bowl. Thin slivers of tenderloin are grilled against the hot sides of the bowl, and then the rice is mixed with the Korean Gochujang sweet and hot chilli paste. If you are looking for something simpler, then try the Singaporean Hainanese Chicken Rice — poached chicken served on a bed of rice with a very fragrant and salty stock cum sauce, and fried onions.
To wash it all down, we tried the purple colour changing Hattori Hanzo cocktail, tequila, butterfly pea flower tea and lime, and loved it for its not-so cloyingly sweet flavours. The One Night In Bangkok, is a sweet and muddled tribute to Bangalore, with white rum, coconut, lime juice, lemongrass, kaffir lime is a great option, as are all their Moonshine & Hooch options made in-house.
Comments