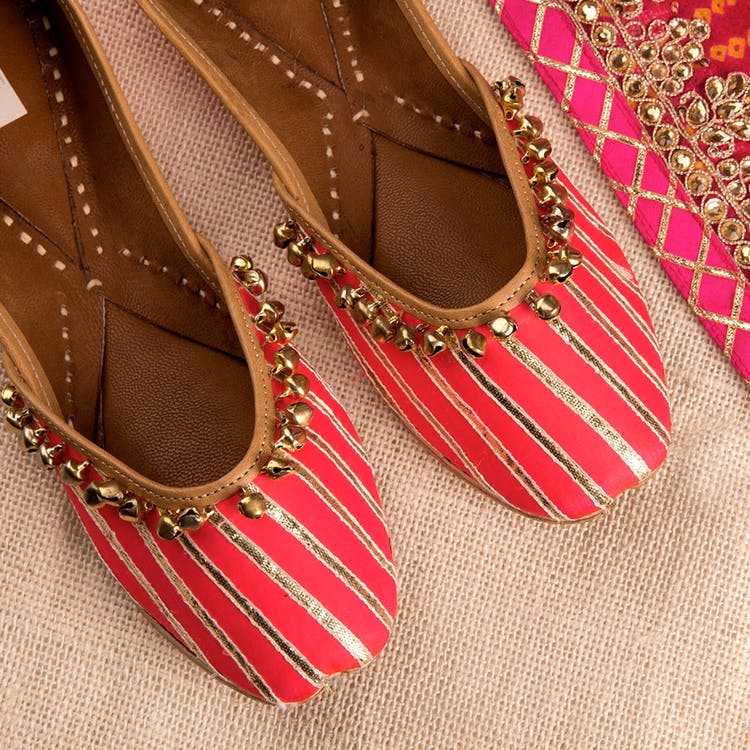 Mad Over Juttis? These Affordable Brands NEED To Be On Your Radar
In the day and age of having closets full of footwear, no Indian girl's shoe wardrobe is complete without at least one pair of Juttis. That they work well with any Indian ensemble is one thing, but they're also super versatile, comfy, and take up far less closet space. With these budget friendly options, there's always going to be room for more.

Hand Painted Elephant Juttis
Made with genuine leather (so they get softer with use), the Hand Painted Elephant Juttis are a take on the classic pair of juttis. With literal artwork on your footwear, it's the star of your look right there. These juttis work well for casual looks be it Indian, Western, or Indo-Western.

Metallic Leather Juttis
Lovers of subtle bling, you'll love these Metallic Juttis that pair well with easy festive and occasion wear. A fine combination of leather and warm gold, these are for events where you'd rather not wear heels to. Minimalist, comfortable, modern - add a touch of glam to understated ethnic looks without shelling out big bucks.

Tribal Print Blue Leather Juttis
Always on the go and on a budget? The classic white and blue on the Tribal Print Leather Juttis will go with anything and everything you pair it with. Don't worry about embellishments and embroidery coming undone on these, as the funky print ties in most looks together, and always goes with jeans.

Mirrorwork Embellished Floral Juttis
Flower children, and lovers of all things colourful, walk on sunshine and flowers with embellished floral juttis with mirrorwork. Adding a pop of colour or few, these bright shoes will add a spring to your step and a sparkle to your look.

Pink Gota & Ghungroo Embellished Juttis
Make heads turn and ears perk up with these Ghungroo Embellished Juttis with Pink Gotta Patti work on them. Be music to everyone's ears courtesy the ghungroo embellishments, and a treat to the eyes thanks to the royal look of gotta patti work on silk.
Comments