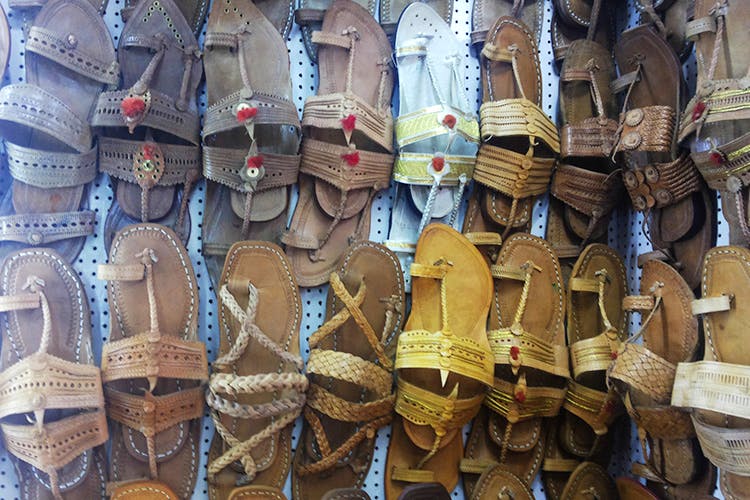 Keep It Desi With Kolhapuris From These Stores In Bangalore
Kolhapuris is a staple favourite and a part of almost every Indian's wardrobe. Looking to find a pair of Kolhapuris to hit the next wedding or for college, work or just something to add a hint of Indian style to your everyday outfits? Here's a list of places to buy Kolhapuris in Bangalore for both men and women.
Shoe Walk
Commercial street has to be the first place to check out budget-friendly, long-lasting and handmade Kolhapuris in Bangalore. Check out Shoe Walk, a small store at Veerapallai street, just off commercial street for authentic kolhapuris in nude, tan and colours like gold, rose gold, black, pink and blue. Be it with salwar kameez, a dress or even jeans and a top, these look good and are comfortable to use. The Kolhapuris here start at INR 250 and of course, unleash your bargaining skills and walk away with a pair of kolhapuris at a price that would bring a smile on your face.
Kolhapuri's
Kolhapuri's, as the name suggests is a tiny store in Brigade Road is home to colourful kolhapuris with fun prints and bold colours like yellows, pinks and blues. Located in Patrick's Complex, you can find a range of slippers with paisley and floral motifs with a combination of colours like blues and pink, red and yellow that would add some colour to your outfit and makes your regular outfit look different. They also sell kolhapuris with golden thread work and colours like gold and silver perfect for a minimal look at a shaadi. They are priced at INR 350 and embellished ones at INR 390. The prices can be bargained at Kolhapuri's.
Ritz Shoes
Another store that you must check out while shopping at commercial street for kolhapuris is Ritz Shoes. Located at a few shops away from Shiv Sagar, Ritz Shoes is heaven for anyone who loves or even wants to buy a pair of kolhapuris. Find a wide range of kolhapuris priced between INR 280 to INR 350, like the plain colourful ones in reds, pinks, yellows, greens, and blues to match with your outfit, pop-coloured kolhapuris with floral patterns and more embellished ones with thread work, beads and pom-poms. They also sell the authentic kolhapuris in nude and tan shades and also the ones with gold and silver.
Exotic Footwear
Commercial street can't seem to get enough of these Kolhapuri stores and we aren't complaining. The more the merrier, isn't it? Spot Exotic Footwear in commercial street, with multiple strings of kolhapuris hanging outside in nude, tan and dark brown shades. This store is famous for selling the classic, authentic kolhapuris for both men and women starting at INR 200 and upwards. The kolhapuris is made out of 90 per cent leather and prices can go up to INR 1,300 for a pair.

Jaypore
Located in Indiranagar, Jaypore, the kolhapuris stocked at here will make you want to pick ore than one. They sell kolhapuris that are made in-house and by upcoming and established designers such as Aparjita Toor, Sole House and Crave Connects. Shop kolhapuris with beaded embellishments like french fries, pizza slices, ladybugs and traditional patterns embroidered and accentuated with crystals and thread work in different colours. Find heeled kolhapuris with matte finished colours of gold, gunmetal, silver and copper with tassels will add some edge to your outfit. The prices start at INR 1,200 and if you are looking for something budget friendly, Jaypore might not be your best pick.
Comments