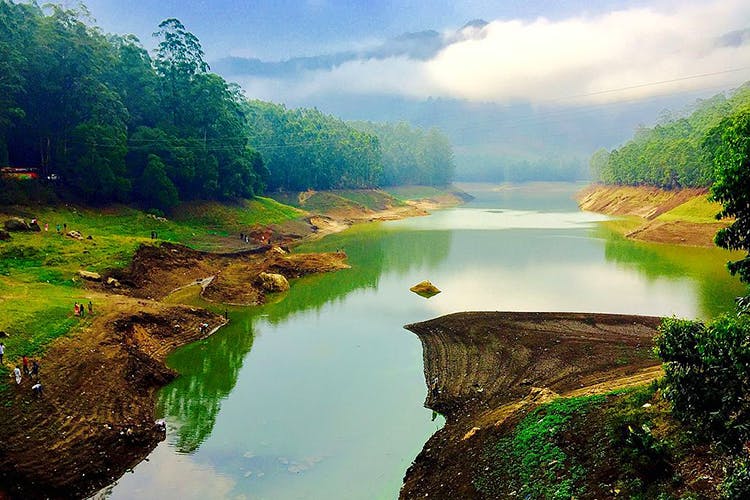 Visiting Munnar? Then, Trek To This Serene Lake That Sits Amidst A Lush Jungle
Shortcut
Soak up the beauty of Munnar with a trek through endless plantations and forests that lead to the breathtaking Sita Devi Lake. Legend has it that it has the waters have healing powers!
The Land Of The Goddess
A honeymooner's paradise, Munnar can easily be mistaken for a slice of heaven. But if you'd like to leave behind the crowds, on your next visit there, we recommend you head straight to the serene town of Devikulam. Located just about 5 kms from Munnar, Devikulam is made up of mist-covered hills, abundant tea estates, and dense forests.
Pack a picnic basket and head straight to the town's chief attraction – the Sita Devi Lake. Legend has that Ramayana's Sita bathed in the waters of the lake, thus, giving it her name and also, reportedly, the power to heal. Today, the lake sits amidst acres of plantations and forest land. And you need special permission from the local Tata Tea Estate office to get there. But many high-end resorts and local guides do arrange for the permissions so that you can visit the lake hassle-free.
Lake Serenity
Getting to the lake first involves a two-three hour trek through thick plantations and jungle. So, don't forget your favourite pair of comfy shoes. You'll make your way through rocky roads and waterfalls before you sneak a peek of Sita Devi. The lake itself is surrounded by hills and greenery and its cool waters are just what your aching feet will need. Since it is secluded, the lake and its surroundings are unspoilt so make sure you leave it that way!
Heading back to Munnar? We know just what you can do. Check out our list of things to do here.
#LBBTip
When you're done with the lake, make your way to the Echo Point that is only about 5 kilometres, if you like to hear the sound of your own voice!
Comments