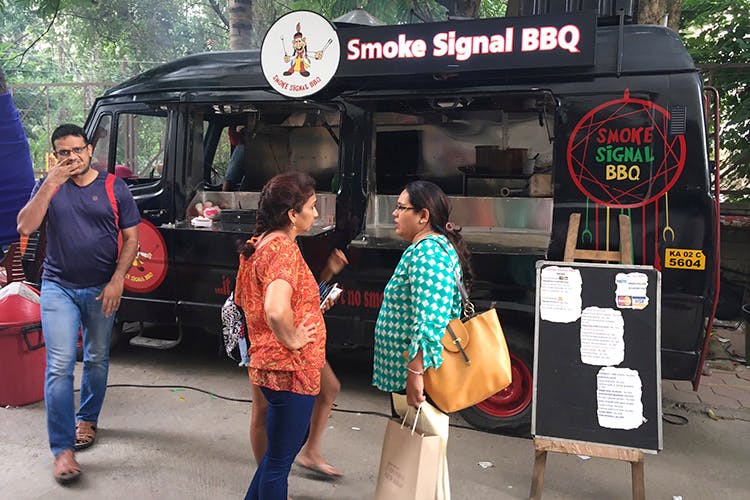 With Its Meaty Menu And Charcoal Grill, This Food Truck Is Our New Fave BBQ Station
Shortcut
Smoke Signal BBQ On Wheels is cruising the streets and serving some smokey goodness in the form of juicy steaks and burgers along the way. Catch the food truck riding around town any time between noon to 5pm daily.
All Up In Your Grill
Four years ago, the casual diner, Smoke Signal BBQ in  Frazer Town permanently pulled down its shutters only to get right back on the food track with Smoke Signal BBQ On Wheels, which is one smokin ride that's cruising all over town. Armed with a charcoal grill, this food truck is all about serving up some good ole American barbecue with a long list of steaks and burgers on their menu, with a couple of flavourful sauces. As Smoke Signal BBQ puts it, it ain't BBQ if there ain't no smoke.
Well Done
The menu is all American with classics like Texas Style Saucy Wings and Rosemary Lamb Chops to gorge on. With a generous drizzle of BBQ sauce and their in-house mayo, which is apparently a crowd fave, their food makes for a juicy and meaty treat. Portions are generous and everything is quite reasonably priced with a meal for two costing an easy INR 300.
You can spot the food truck riding in and around all the major tech parks in the city like Bagmane Tech Park, Cessna Business Park and Manyata Tech Park during lunch hours. These guys are also staples at all the flea markets and food truck festivals happening in town, so you can catch them at those as well. If on any day they're taking a detour from their usual route and plan to make a stop somewhere else, they keep their Facebook following updated on their page here. And all there favourite customers get added to a Whatsapp group where everyone is directly notified of the trucks whereabouts and stops, so it's time to make a good impression.
#LBBTip
These guys are available to cater for private parties and the like, so hit them up if you want to serve some smokin bbq at your next hang. Give them a call at +91 9845302345 to seal the deal.
More Information
Smoke Signal BBQ On Wheels
Comments