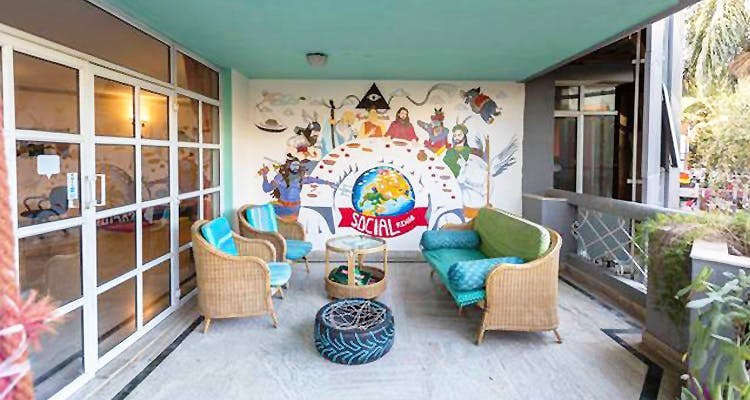 Social Rehab is all about Recreating the Budget Euro Backpacker Experience
Shortcut
The hostel bug has caught on in India, and Bangalore is charging on this brigade too. And this time, it's smack in the centre of town in Indiranagar, in the form of Social Rehab.
Home for a while
If you're a backpacker, then you know how miserable it can be to land up at a shabby hotel or a hostel that really doesn't deserve to be called home for your holiday. And luckily, the good folks at Social Rehab understand the importance of affordable and comfortable stay. There are six-bed dormitories as well as private suites for that added luxury. Bunk beds with curtains on each give you that extra sense of privacy, and bathrooms, though basic are clean and have modern amenities. So no need to worry about a bad power shower when washing your hair!
Beyond the bed
And while a good bed is important, it's the common area that really catches the eye. Loaded with a DVD collection (that only grows with each sharing traveller who feels like leaving behind a filmy legacy), board games, books and of course, a television, you'll want to move in here even if you're not a traveller. Ideal to inspire or at the very least soothe, the walls have doodles and drawings on them. Plus, bright cushions and sofas to lounge on and swap tales. Oh, make sure to chill out in the verandah with an interesting backdrop of Arthur's Round Table with a twist – yes there's Gods of various religions, as well as flying elephants and Vikings.
Throw in some fun, good food (brekkie is on the house from 8am-11am on weekdays and until noon on weekends, and some dinners too) and WiFi and you've got yourself a great deal, eh? They also organise pub crawls (ours is after all the Pub City) and trips to Hampi, Goa, Kerala and any other close-by spots.
So we're thinking…
Bringing in the hostel atmosphere of Europe, where camaraderie and conversation reigns supreme, this place is all about traveller bon homie. We might just check in for the fun of it soon!
More Information
Social Rehab Hostel
Nearest Metro Station: Indiranagar
Comments