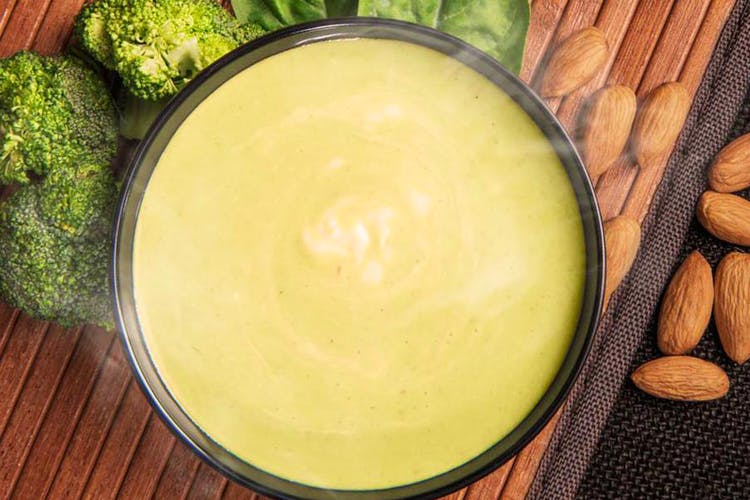 Broccoli Almond To Murgh Simlamirch, This Soup Station Has Five New Flavours Every Week
Shortcut
Serving up some interesting soups (move over sweet corn chicken), the Soup Station has us slurping their delicious soups which they deliver to your doorstep.
In The Soup
Love soup? Then we've got some good news for you. Say hello to Soup Station, a month-old enterprise that only serves flavourful soups. Based out of Chalaghatta, this home delivery only joint has got your soup cravings sorted and switches up their menu every week. With at least five flavours on the menu every week, we ordered some over to the LBB office to taste for ourselves. We went all out and tried four kinds. The soups were delivered in cool and practical flasks, along with cups and plenty of breadsticks too. The veggie options we tried were the Broccoli Almond soup and the Mushroom Leek soup both of which were delicious, but our pick for the best would be the Broccoli Almond for its smooth and slightly creamy texture, and the subtle notes of almond we could taste.
Strangely, we enjoyed the vegetarian soups a lot more than their non-vegetarian counterparts, but that doesn't mean that the Murgh Simlamirch Shorbha and the Afghani Mutton Shorbha aren't worth a slurp. Both had a nice fiery kick to them and the broth packed in quite a bit of meaty flavour.
The Price Is Right
What was almost more satisfying than the flavourful soups, were the incredibly reasonable rates and generous portions. A flask of soup, which serves two will only set you back by INR 120. So order yourself a healthy soup today.
#LBBTip
Soup Station will be introducing salads to their menu very soon, so keep a lookout for that.
Comments