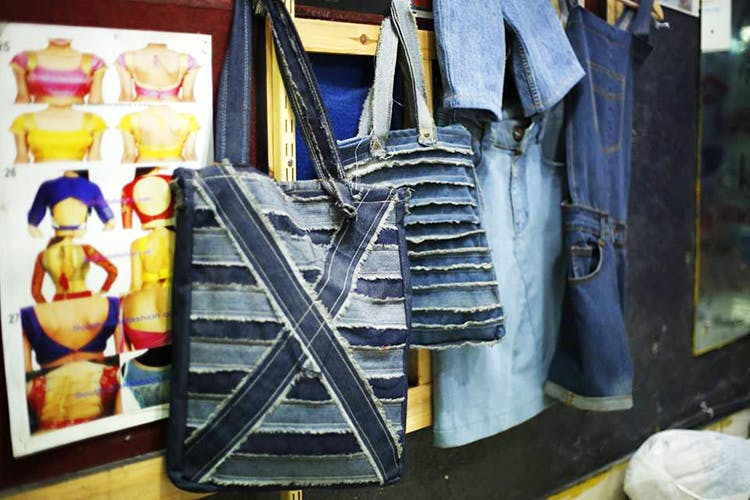 Convert Your Old Pair Of Jeans Into Aprons, Laptop Sleeve Or Totes, With This Cool AF Tailor
Shortcut
If it's time for you to get rid of your old jeans, instead of dumping them, get them to SSB Tailors. They will work their magic and create shorts, skirts and even accessories like bags and aprons.
Altering The Jeans
We all have at least one pair of jeans that are too old, out-dated, or worse don't fit you anymore. Whatever may be the case, the folks at SSB Tailors will ensure that your old pair is turned into something useful so you can keep it forever! Located at the parking lot of Phoenix MarketCity, the store is easy to miss. But now that you know, ask the security for the directions and they will be happy to guide you. We also hear there's a store in the Forum Value Mall one too.The staff is friendly and will tell (ramble, really) you that they can do anything and everything with a pair of jeans. A catalogue will be handed to you and it's filled with all sorts of designs that will give you an idea of what to do with your jeans. If your pair isn't too worn out, get them converted to a skirt or shorts. But we love them for they can convert them to cushion covers, shoulder bags, totes, sleeves for laptops, and even aprons.
Baggy To Skinny
Apart from repurposing your old pair, they also alter jeans to fit you more perfectly. They do alternations to convert baggy jeans to regular fit or even skinny. The staff tells us that they can also increase the waist size of jeans that no longer fit, but we aren't entirely convinced because from what we saw on display, the extra fabric used looks off and not entirely matching the original fabric.
Comments