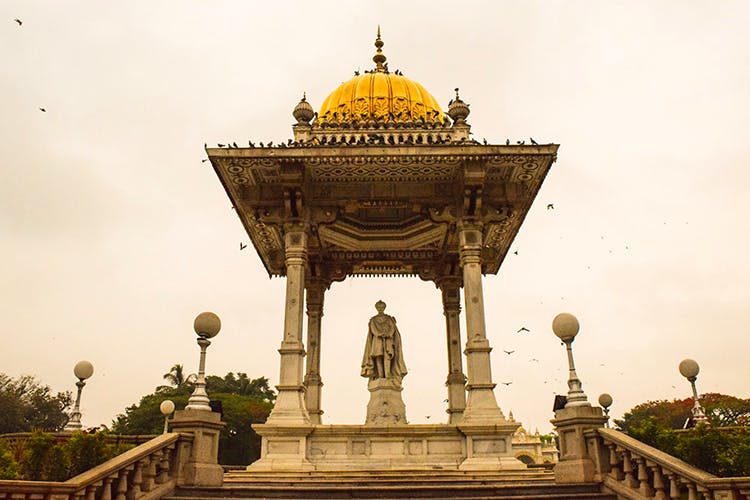 Why You Need To Check Out These Stunning Statues In Mysore
When you're done gawking at the gorgeous palaces in the city, make sure you don't just leave it at that. Dotting the entire city, you'll find numerous statues, mostly in the centre of cross road, and they're as grand as you please. Perhaps you would be better off renting a cycle, and making your way around town, so it's easier to hop off, take photos and be on your way.
Statue Square (Chamarajendra Circle)
Noticeably the most beautiful structure right in front of the northern Palace gates, this statue dates back to 1918. Sculpted by the famous British sculptor Robert Colton, it stands majestically at the junction of Albert Victor road and Ashoka road. Made with the a white marble "Makrana" from Rajasthan, the same marble Taj Mahal is made of. The statue did not resemble the King Chamarajendra Wodeyar and hence the head had to be redone by an Indian sculptor G.K Mathre. The Circle was earlier named as Statue square but has been named as Sri Chamarajendra Wodeyar circle.
KR Circle - Krishna Raja Circle
Situated between the shopping stretch of Urs road and City bus stand it is unarguably the most beautiful place to experience the nightlife of Mysore. Unveiled by Sir M Visveswaraya in 1952 the whole buildings around it is built in a similar fashion to Connaught place in New Delhi.
Tathiah --  Grand Old Man Of Mysore
Venkatakrishnaiah- A journalist, author and social reformer, he was a teacher at Marimallappas and retired as a Headmaster. He was also responsible for bringing M. Visweswaraya to Mysore from Bangalore. The marble statue was gifted by the Maharaja Jaychamrajendra Wodeyar and later placed in front of the Landsdowne building.
Aanche Bassappa
Located in front of Mounted Police Headquarters, Aanche Bassappa was the only postman during the reign of Nalwadi Krishnaraja Wodeyar. He was very well known for his epitome of sincerity and used to take great pains to deliver letters to the addressee.
Mahishasura
Mahishasura needs no introduction to a Mysorean. The statue of the demon king on whom the city is named after is something that everyone has seen at the Chamundi hills. But here's a picture of him at Kalamandira, looking quite deflated and malnutritioned. Nevertheless it is as scary as he would have been!

This post was first published by Royal Mysore Walks. Read the entire story here.  
Comments