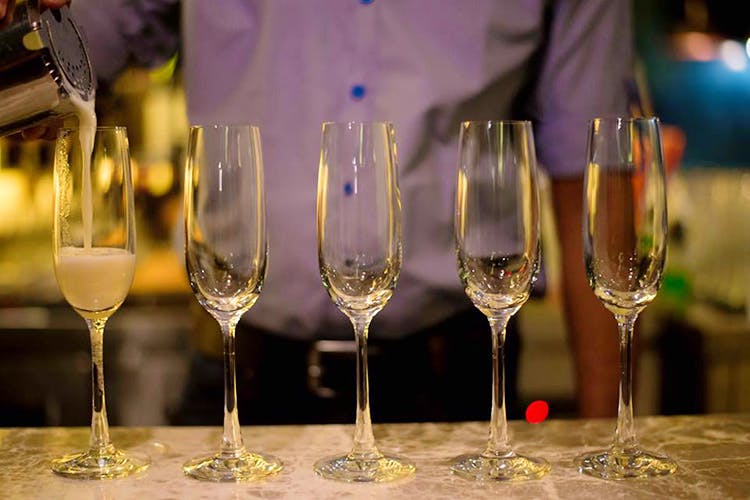 Books, Cool Cocktails And French Quarter Vibes: The Storyteller's Bar In Pondicherry Is Lit
Shortcut
The next time you're in Pondicherry and want to chill out with live music, classic films and some quirky cocktails, hit up The Storyteller's Bar at the Promenade Hotel.
Vodka With A View
Touted to be one of the first spaces in Pondicherry to bring in live acts from across the globe, and India, in addition to being a bit of a travel-themed bar, The Storyteller's Bar is a bar with a difference. Set in the French Quarters of Pondy at the sea-facing Promenade Hotel by Hidesign, what stands out is the bar's Wall Of Stories which is filled with memorabilia, props, books, and anecdotes from travellers and locals. It's like you're listening to a stranger's tales over a bar counter, over whiskey or vodka.
Bar Talk
The whole place is set in a sepia tone, starting with the stunning sloping roof made with books, and has in bold gold the name of the bar. And before you get a bit too tipsy, yes, there is a typewriter on the wall. We also like the Creole vibes, especially since the whole minimalist decor is a tribute to the Indo-French roots of Pondicherry. Being the only space for performances, it's a where we'd go for live music, and since they've kicked off movie screenings, that too. If you're in Pondy, keep track of their events. From Shaun Of The Dead and The Last King Of Scotland to acoustic music and fusion DJs, there's something for everyone.
Food For Thought
Food here is a mix of Tamil and French, but what is more appealing is that they aim to locally source all the ingredients. So think Auroville Cheese Platter, roast veggie and goat cheese ravioli and spicy lacquered chicken wings with a piquant soy BBQ sauce. But when at a seaside town, it's all about seafood, right? Bring on the Creole-spiced Calamari Fritters or Grilled Sand Lobster with sweet potato chips. And the best part? It's all from the fresh catch of the day. Look out for signature cocktails as well. If you want to be hipster, try The Lighthouse, which is gin infused with elderberry. Then there's also a Chocolate Filter Kaapi that is all kinds of yummy.