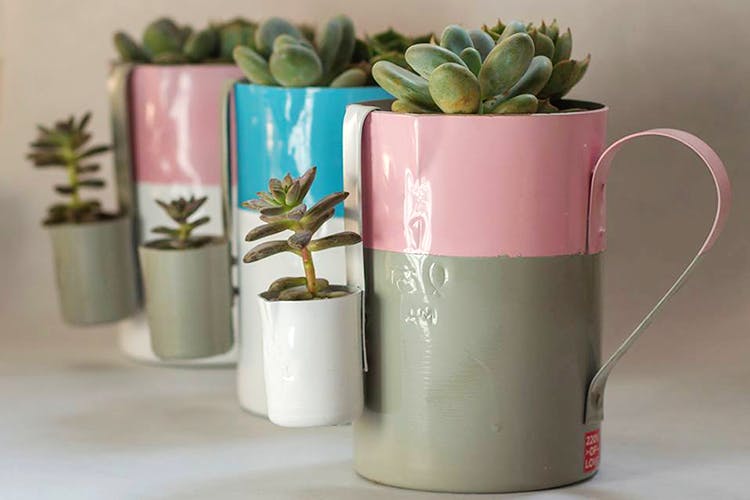 You'll Love This Bangalore Decor Label's Range Of Succulents Available In Quirky Planters
Shortcut
Bangalore-based decor brand, 220V of Love is taking a fun arts and craft approach to indoor plants and decor. Their Succulent Art Project is pairing delicate succulent plants with creatively tweaked everyday objects.
What Makes It Awesome
Charged with 220 volts of passion and creativity, artist Prashant Varma's Succulent Art Project is fusing ornamental succulent plants and everyday tools like measuring cans and metal jugs to create quirky and contemporary decor pieces. With small and cheerful plants growing out of artsy cans, jugs and tumblers, these pieces are quite the conversation-starters and are sure to inspire awe among house guests.
They come in many fun colours like bright yellows, pale pinks and turquoise. If you're one for understated elegance, you can go for their plainer greys and grainy metallic hues.  We spotted a checkered black and white piece and a range of two-tone cans with interesting colour combinations, that we're simply loving. Succulents make for great indoor plants as they're easy to nurture and maintain. So if you're looking to add a little bit of green to your space, these whimsical pieces are your best and most convenient bet. They come in four sizes with prices starting at INR 740, going upto INR 2,240 for the bigger ones.
Pro-Tip
You can by these pieces online from e-commerce websites like Unfactory or get in touch with 220V of Love through their Facebook and Instagram pages.

Comments