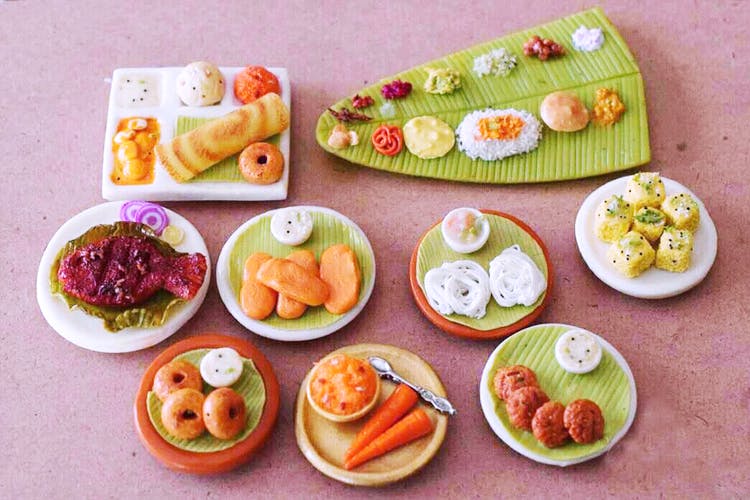 Jazz Up Your Fridge Door With Mini Dosas And Thalis From This Adorable Brand
Shortcut
The Bengali thali, Kerala special Onam sadhya, crispy dosas and even spice-laden biryanis find their way into Sueno Souvenir's realistic and delicious looking fridge magnets.
What Makes It Awesome
Admire Sueno Souvenir's array of miniature dishes all you want, but don't make the mistake of biting into any of them. They are all made of clay, tragically, after all. For Shilpa Mitha, the Chennai-based artiste who helms the online venture, it all started off as a hobby back in 2011, when she decided to make a pair of burger earrings for herself. Encouraged by her friends' responses, she went on to create tiny cakes and other dishes, all with air-dry clay and paint.
Driven by her love for food, Shilpa does enough research to keep her art as real as possible, replicating even small details. While she loves making the fish fry, biryani and Chicken 65 magnets, her customers seem to be ardent fans of the mini dosas. And, we aren't surprised. With golden brown rings and slight glaze, it's already making us drool. We also spotted magnets of poori bhaji, filter coffee, poha-jalebi, and even an upside down pineapple cake among her artistic creations.

Specialising in fridge magnets shaped as miniature dishes (just as big as a coin), mostly from Indian cuisine, Sueno Souvenir's products include everything from an elaborate Bengali thali and a Kerala-style sadhya to idlis and dosas. While she takes as less as 60 minutes to make some magnets, the process can even take up to five days. Especially when there's rice involved! She makes each grain separately, you see.
Pro-Tip
A very limited collection is also available at Boho Me at Indiranagar.
Comments