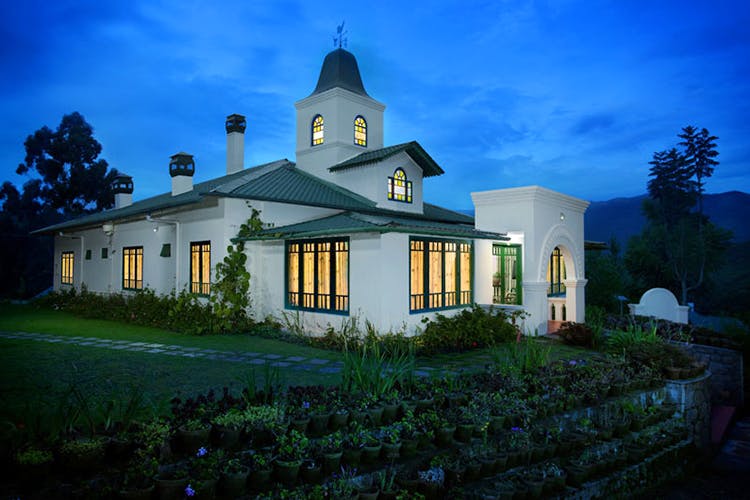 Escape With Your Fam To These Resorts, Less Than 10 Hours From Bangalore
With the holiday season upon us, weekend getaway at the coolest resorts in South India may just help you sail through all the drama around. All you need to do is round up the brood and drive down to these tranquil spots where the Sun isn't a sworn enemy. Here's list of resorts where you and your family can kickback this season.
The Windflower Resort @ Bandipur
Embrace your wild side at this luxury resort that's close to one of Karnataka's best-known wildlife sanctuaries. You can splash about in the swimming pool or lounge with the kiddies in swanky cottages. When you don't feel like sitting around anymore, drive over to the Bandipur sanctuary for a meet and greet session with tigers, deer, elephants, wild dogs and other fantastic beasts.
Vythiri Resort @ Wayanad
This summer, sign up for a slice of paradise at these eco-friendly tree houses. You can spend your summer break far from cell reception and close to Nature. From your vantage point, you can feast your eyes on scenic views and gurgling waterways. If you'd rather not take the 'high' way, then, we recommend you pick the not-so-shabby cottages that come with their own jacuzzis.
Stay Simple Brunton Resort @ Kodaikanal
Offering sweeping views of Kodaikanal lake, this property is hosted in a picturesque British-era bungalow. Easy on the pocket, the cosy rooms charm you. And you can spend your days cycling around the property or catching up on the family gossip in front of a warm fireplace.
Kurumba Village Resort @ Ooty
Surrounded by green mountains, this nature resort mixes laidback with luxury. The thatched roof rooms and the infinity pool will serve as the highlights of your stay, we're sure. You and the fam can also sign up for hiking trips and plantation tours.
The Courtyard @ Chikmagalur
Looking for a home away from home? Then, this charming homestay will fit the bill. A traditional Malnad home, complete with wooden pillars, tiled roofs, and red-oxide floors, is at the heart of this property. You can relax with the brood on balconies that look out to acres of plantations. For a dose of excitement, we recommend a trip to the nearby Bhadra Wildlife Sanctuary.
Glyngarth Resorts @ Ooty
Perched on top of a mountain, this Insta-perfect resort is the ideal place for a breather from the summer heat. Their swanky rooms feature large windows that overlook green forests. And an infinity pool completes the pretty picture. You can spend your days lazing or get active with treks and bike rides through the mountains.
Red Earth @ Kabini
Amidst the wilderness of Kabini sits this little gem. An eco-friendly resort, you can spend your days exploring the forests that surround you. Or by simply kicking back in earthy rooms that come equipped with jacuzzis. In the evenings, you and your fam can partake in barbeques and banter by a campfire.
Camp Noel @ Munnar
Unspoiled greenery and mountains cloaked in mist enscone these cottages that are located just outside Munnar. You can leave the crowds behind and bond with your family here. During the day, you can set off on trekking expeditions and as the sun sets, you can swap family anecdotes around a roaring fire.
Spice Village @ Thekkady
Right at the edge of the Periyar Tiger Reserve, this sprawling resort's rustic chic rooms will have your heart. The comfy, luxe cottages come with thatched roofs and mud walls. And are surrounded by lush lawns that you can stroll through. The property also has a spa where you can relax. Or you can head out with your family for water safaris and pepper vine tours.
Bear Mountain Jungle Resort @ Masinagudi
Add a dose of adventure to your summer retreat at this resort that's tucked away in the Nilgiris hills. Enclosed by the lush forests of Masinagudi, the resorts offers comfortable cottages for you to lounge in. You can also scooch together at their not-so-basic campsite. Once you're settled down, tag along with a guide and explore the wildlife.
180° McIver @Coonoor
If this place worked for the family from the Bollywood blockbuster Kapoor & Sons, it should work well for you too. Housed in a well-done up colonial bungalow, the spacious rooms will have you living a royal family. When the hunger pangs come calling, you can head to the lawn area, that overlooks Coonoor, for a lunch spread that includes dishes from all over the world.
Mugilu @ Sakleshpur
Family, friends, pets and babies are all welcome to this resort in nearby Sakleshpur. Shunti, the darling dog, will usher you in and you can put your feet up in the private cottages that are nestled in a plantation. Morning walks through the estate and sunset watching should be a part of itinerary here.
Comments