Fill up on Brekkie and Smoothies at Sunny Side Up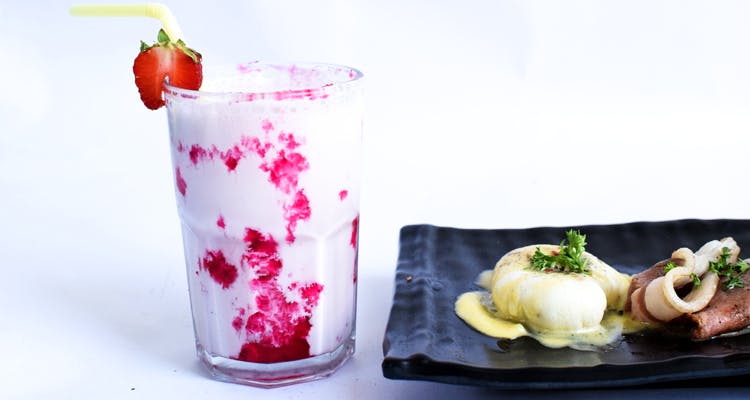 Winning for
Their spot-on all-day breakfasts, fruit-infused smoothies and the charming bungalow they've set up shop in.  
Brekkie dance
All-day breakfast options, burgers, steaks rub shoulders with smoothies, milkshakes and a few desserts on this cafe's menu. We got our drinks first. The Banana Strawberry Smoothie  was a creamy drink that combined both flavours brilliantly. We also liked our Mango, Mint and Orange smoothie although the citrus flavour was sorely lacking.
Next our English Breakfast trooped in and it didn't disappoint. Two fluffy, lightly sweetened pancakes came, accompanied by slivers of bacon (always a winner), and two peppery mutton sausages. There was also a helping of baked beans done up in a tangy, garlic-infused spice mix, that wasn't the usual tomato-based gravy we see, and we quite liked it. To round things up, there were the sunny side up eggs. The billowy eggs with their runny, yolks sure did the cafe's name proud, we must say. We also tried their Beef Burger. The chunky patty however lacked juiciness and the spices really didn't come through, so we happily went back to finishing up our English breakfast.
The DL on the ambience
Keeping up with the old-world feel of Cooke Town, Sunny Side Up calls a graceful, whitewashed bungalow home. Grab one of the bare, wooden chairs in the colourful garden and you've got yourself a pleasant outing.
So we're thinking…
We're glad that this part of town got its own breakfast place – perfect for the mornings (or evenings) where you'd like nothing else but to tuck into a plate piled with eggs, bacon and airy pancakes. It took a long time to come, but Sunny Side Up sure made the wait worth it.