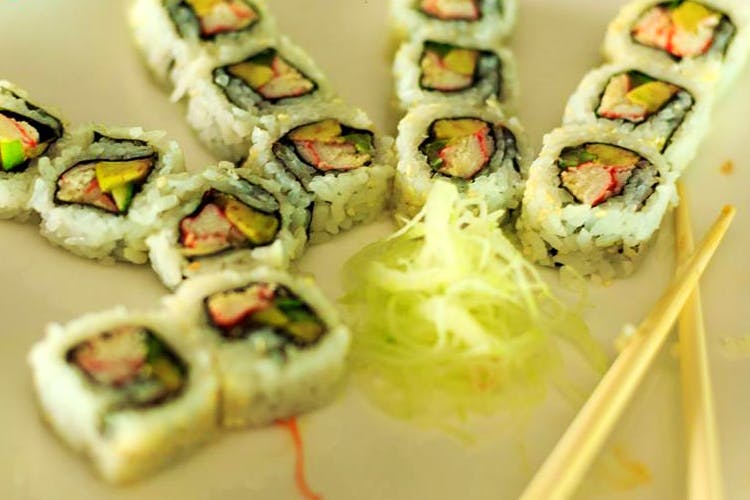 Grab Your Chopsticks! Here's Where You Can Get Sushi In Bangalore
In a ranking of dishes that are super yummy while also being super healthy, there's little doubt that sushi would top that list. If you find yourself agreeing with that statement then this list is definitely for you. In the recent years, a lot more Japanese restaurants have opened shop in the city. And that can only mean good news for sushi lovers. Here's a list of the restaurants that serve the best sushi in town.
Harima
One of the oldest Japanese restaurants in town, Harima has earned love for its budget-friendly fare that satisfies your every craving. If you are on a shoe-string budget, you can wolf down the Maguro (sushi topped with raw tuna) or Tai (that comes with seared red snapper). However, if you are in for a splurge, you can sign up for the salmon caviar version or the Rainbow Roll that features crab stick, avocado, and two kinds of caviar. Read more about Harima here.
Teppan Japanese Grill & Sushi Bar
If you'd like a little bit of drama with your meal, book a table at this restaurant. The chef will regale you with all sorts of tricks while preparing your meal. During your fun interaction, you can stuff your face with treats from the sushi menu. You can pick from Unagi (eel), Hamachi (yellowtail), and Shime Saba (mackerel) versions. Vegetarians can chomp on the maki made from spicy tofu, avocado, carrots and cucumber.
Hae Kum Gang
The sushi rolls here are top notch and are a must try. There's plenty of variety too! The Kimchi Seafood Roll comes packed with all the best treats including salmon, squid, crab, tuna, and flying fish roe. For meat lovers, the Bulgogi Roll that's stuffed with either pork or beef is an excellent choice. While veggie fans can opt for the Avocado Roll that comes with, well, avocado, wasabi, seaweed, and is accompanied by a light salad.
Edo
When you've got 'lavish' on your mind, then, there's no better place than Edo. Housed at ITC Gardenia, this spiffy restaurant invests in the best ingredients and an expert chef who'll transport you to the streets of Tokyo. The Nigiri and the Maki Sushi (try the salmon version) are excellent here. And so is the Ika Sushi that's made with squid. If you'd like to experiment with other offerings, their Sashimi and Robatayaki (grilled food) will keep you happy.
OKO
Offering a brilliant view of the city, this rooftop restaurant has plenty to offer for the sushi lover. Under the Nigiri variety, you can experiment with flavours like fresh water eel, scallop, prawn and yellow radish. The Maki Sushi comes with ingredients like pickled radish, asparagus, tuna, and salmon. While the Uramaki packs in assorted vegetables, tempura prawns, and crab meat into your sushi rolls.
Yataii
Located at the luxurious Shangri-La Hotel, Yataii infuses a variety of textures and flavours into the sushi it serves up. The Dragon Maki, for example, comes with panko dusted prawns and avocado along with flying fish roe. The Salmon Cream Cheese Maki comes with (yes, you guessed it) cream cheese, salmon fillet, and roe. The Ume Kyu Maki has a hint of sweetness to it thanks to the pickled plum that comes along with the cucumber and yellow radish.
Matsuri
Started off a few years ago, Matsuri does traditional Japanese well while keeping the prices competent. While they don't offer a huge variety, you can expect the classics here. The Tekka Maki (rolled tuna), Ika (squid), and Tamago (sweetened egg omelette) are all great picks. Do sample their platters, they'll not just fill up your tummy but you can also savour various kinds of sushi. Read more about Matsuri here.
Shiro
The Bento Box at Shiro is a winner. Order it and they'll deliver a box filled with Nigiri and Maki Sushi along with an assortment Makimono rolls. These include Spicy salmon and tuna versions. Want to experiment with a food trend? Then try the Sushirito (sushi that looks a lot like a burrito) that are stuffed with everything from crunchy vegetables to panko crusted chicken, grilled Korean chicken, and cubed tuna. If you'd rather stick to the traditional variety, there's the Crispy Avocado, Kappa Maki (cucumber), Tuna, and Scottish Salmon versions. Read more about Shiro's sushi bento here.
High Ultra Lounge
Feast your eyes on the bird's eye view of the city while you sink your teeth into a fresh sushi at this swanky restaurant. Vegetarians don't have plenty of choices here but the handful of offerings are pretty tempting. Futo Maki comes with pickled radish while the Tempura Maki includes carrot, zucchini, and sweet potato. For the non-vegetarians, the Salmon Avocado Roll is a must try. The Rainbow Maki with crab meat and salmon is also a great choice.
Zen
The sushi counter is definitely one of the highlights of eating here. The Dragon rolls that come in tempura prawn, eel, and crab stick versions along with the salmon nigiri are worth ordering. So is the Baked California Roll and if you are game for a splurge, then, do dig your chopsticks into the Spiny Lobster where the tempura lobster is accompanied by cucumber and kecap manis (a type of soy sauce). You can also ask the chef to come up with a few innovations. One of the chef's signature creation here is the Rainbow Roll that's made with five types of fish.
Sakae
Part of the UNO-Inn Hotel, Sakae is where you need to head to when your sushi needs are high but your wallet is slim. While not part of their regular menu, you can request for a Sushi Platter and they'll serve a variety of sushi. You'll get Tamago (egg), Ika (squid), Hirami (flouder) and also salmon and prawn versions. Mop these up with the wasabi, soy, and gari accompaniments and you'll be happy. Read more about Sakae, click here.
Comments