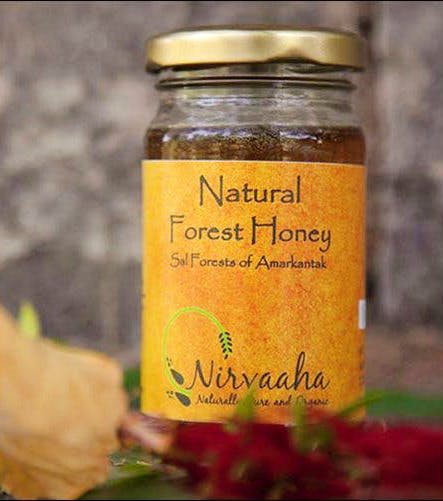 Sweeten The Deal: Six Home-Grown Honey Brands You Need To Try Out
How many times have you seen celebrities on TV asking us to substitute sugar with honey? While they may be marketing a specific product, they're also making a lot of sense. Honey is a natural sweetener that—if taken without preservatives—works wonders for the body. You can have it raw to cure colds, add it to smoothies, drizzle some on a scoop of ice cream and do a million other things.
The next time you're looking to buy a jar of honey, keep these organic local brands in mind. They provide a healthier product that is way better than store-bought ones. Trust me, you will notice the difference as soon as you taste them.
Under The Mango Tree
Committed to sustainability, this non-profit organisation works with farmers across the country to bring good quality honey to your doorstep. The queen bee of the company, Vijaya Pastala, realised that the little communities in India collected and made a variety of honey, while the one you and I eat is the standard flavour. She thought of getting those different varieties into our lives, and help farmers make a decent living out of it as well. Some of the versions that they sell include Wild Forest, Tulsi Honey, Tribal Gold Honey, Dessert Blossom, and Litchi, among several others.
Where: Buy it here
Societe Naturelle
Societe Naturelle has partnered with various stores to sell their products and serve its customers with the best natural honey from the goodness of bees. They have a wide range of beautiful honey with unique flavours like eucalyptus, acacia, mustard, and ginger, to name a few. Apart from being super yummy, they have brilliant medicinal qualities that keep you healthy. Perfect for those who have oats and green tea as their meals.
Where: Buy it here
Nirvaaha
This site is a one-stop destination for all your organic food. While you can order online, they also have a shop in Delhi. They sell two kinds of honey: Forest and Farm. Forest is a bit sour in taste, as it has more pollen in it, but it's also more medicinal; the latter tastes like the one we usually eat, and is preservative-free. They tend to make organic food really interesting by regularly organising pop-up cafes and events. Fun and food; best of both worlds!
Where: Buy it here
Pahadi Local
Jessica Jayne started this homegrown wellness brand in Mumbai, and now she is known throughout the country for her products - skincare, wellness and gifting. Apart from hair oils that nourish your scalp and regional teas, she also produces one of the rarest honey called Chichiri. They claim that the honey can crystallise even in the room temperature, which indicates its purity and high quality. A bottle of this rare honey will cost you INR 1,950.

Their packaging has a lovely minimalist look that will make you want to order everything! Looking for a thoughtful gift? They have multiple gifting options including tea boxes, beauty oils, beauty gifting hampers etc.
Where: Buy it here
True Elements
Giving you four variants of honey, True Elements has established itself as a fantastic local brand. You can go for the acacia flavour if you like it super sweet. There's also Neem Honey if you're diabetic and looking for additional medicinal benefits. Sore throat? Turn to the Ginger flavour. If nothing suits you, go for the good old raw version that is rich and warm. And those who love shots, try their honey shots - which are highly rich in antioxidants and helps to boost athletic performaces.
Where: Buy it here
Honey Twigs
Now this a new way to have honey - where no fingers or spoons will be involved. Coming in small tube-like containers, this superfood is easy to carry around and use. Wrapped in form of twigs, simply slurp one twig while heading for work or going for a walk. With ingredients sourced from the Himalayas, we'd say try their litchi, vanilla or cinnamon version and go gaga over it every morning for breakfast!

And, if your order is above INR 400, you get free delivery plus a reusable Honey tote.
Where: Buy it here

The article was originally published in The Hauterfly
Honeykart
After struggling for two years, Krishna Murthy (founder), was successful in producing pure and raw honey after applying new and advanced beekeeping practices - which are not usually practised in India. They specialise only in 'floral (not flavoured) honey' - which is produced by bees by collecting the nectar excreted by flowers. Their products are divided into two - floral honey and extra floral honey; both have high demand in the international market. While floral honey is made from flowers, extra floral honey is made from leaves of plants and not flowers.

All their honey farms are located in pollution and chemical free zones, so as to deliver the best quality honey.

Where: Buy it here.
Comments