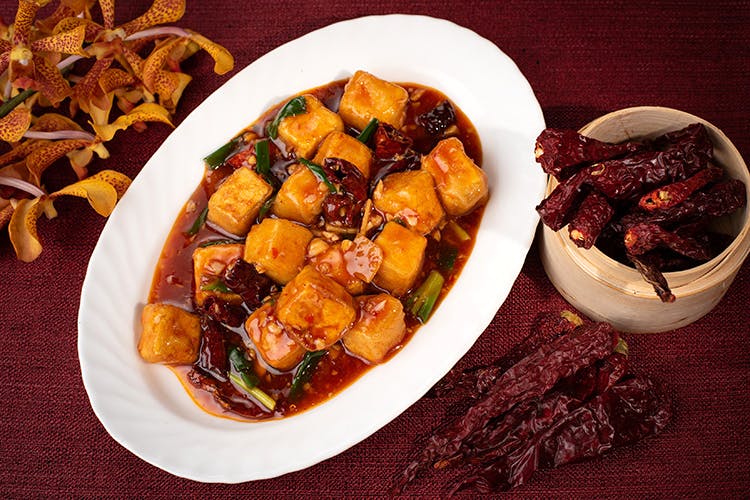 Peking Duck, Crispy Lamb And Dim Sum: Have You Visited This Iconic Chinese Restaurant On MG Road?
Shortcut
If you're a regular at The Oberoi's Szechwan Court, then you know there's a new chef, David Wang, at the helm. And with him comes spot-on Chinese fare, and Peking Duck in its most authentic avatar!
Great For
Luxury, Ambience, Quiet, Pan-Asian
What Makes It Awesome
Szechwan Court is a family favourite, and we go here for someone's birthday every year. It's something of a tradition, as it is with most old Bangalore folks. So when the restaurant brought in a new chef, directly from the heart of China (Beijing), regulars were excited. And Chef David Wang doesn't disappoint. We loved that the food goes the authentic route, including specials such as Stir fried bean sprouts with wild mushroom, fried lotus stem and wok-tossed squid with salt and pepper (a favourite street food in Beijing). We even had Barracuda in hot garlic sauce, though it was not as hot as we'd expected. They do a lobster in XO sauce, and we loved it. But it was the authentic Peking Duck which stole the show. Chef himself showed up at our table to carve the meat. We quite enjoyed the traditional experience of rolling it up with pancakes, scallions, plum sauce and cucumber.
The Sichuan peppers are added to a good many dishes (our favourite of which was the turnip cakes tossed with this fiery chilli). If you eat pork, try the Beijing-style pork stew, it's delish! Vegetarians, you must have the tofu and asparagus dim sum which has to be dunked in soy sauce for best results. You don't need us to say that the iconic Lamb With Black Pepper Sauce is still as outstanding as ever, especially paired with Jasmine Rice. End with black sesame and cherry cheesecake.
What Could Be Better
Not that we're complaining, but prices are that of a star-hotel. So don't expect a quick fix meal and a budget bill. Keep this one for special occasions.
Also On Szechwan Court - The Oberoi
More Information
Szechwan Court - The Oberoi
Wi-Fi Available

Nearest Metro Station: Trinity
Comments