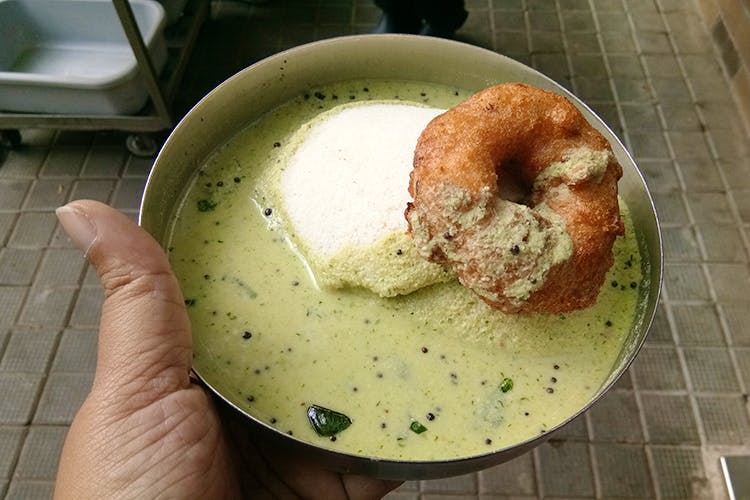 Nearest Metro Station:

Jayanagar
Fluffy Idlis And Ghee Soaked Dosas: Grab Brekkie For INR 50 Or Less At This Popular Jayanagar Joint
What Makes It Awesome
The hottest breakfast spot in Jayanagar 4th block, Taaza Thindi draws in endless crowds with its budget-friendly South Indian menu. If you are serious about your masala dose, idlis, and filter coffee – we recommend you pay them a visit ASAP. They are open from 7 AM to 12:30 PM and from 4:30 PM to 9:30 PM on all days. Styled like a modern darshini, self-service is the mantra here. You grab a ticket at the counter and then pick up your food at the live stations. We recommend you order a plate of idli-vada first priced at INR 10. Doused in a mellow, coconut chutney the idlis are soft pillows that simply melt in your mouth. We think they are one of the best idlis in town. The vada makes a fine accompaniment to the idlis. It's got plenty of crunch and is super light. We might challenge ourselves to eat about 10 next time.
The Masala Dosa takes a while to get to you and is priced at INR 20. But is well worth it. The dark-brown dosa is glossy thanks to the generous amounts of ghee lathered on. Compared to dosas in other places, this one is small but it is pretty heavy. You can follow this up with a plate of the Chow Chow Bath priced at INR 25 that comes with a dollop of gooey, sweet Kesari Bath, studded with dry fruits and bits of pineapple. There's also the spicy Bisi Bele Bath (instead of the usual upma) that comes loaded with veggies. And don't forget to complete the breakfast ritual with a cup of classic filter coffee at INR 10.

Pro-Tip
It's always crowded, and there's no place to sit really, so this is ideal for when you need a quick, wholesome, filling, breakfast on the go before heading off to work. If you are hosting a party or throwing an engagement party or just any other family function, Tazza Thindi also caters. But, they only cater for events with more than 100 people. They do take bulk orders for smaller get-to-together parties.
Comments
Nearest Metro Station:

Jayanagar