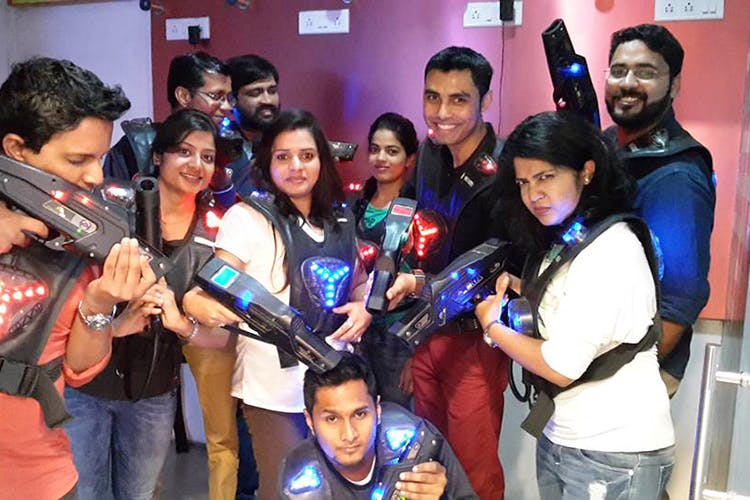 Play Laser Tag At This Jayanagar Battledrome For Just INR 150 A Round
Shortcut
Skip the clubs and bars one evening and instead dive into an enthralling game of laser tag. That too only for INR 150 a piece on weekdays!
Play Tag
If you believe Barney Stinson, then you must surely play laser tag once a week — because he said so. If not, then go to Talk To The Hand anyway! Essentially a laser tag battledrome, this one is all about pumping the adrenaline. It's perfect for a group of 4 to 12 so you can team up and shoot laser beams at each other. But when you're there, ask for the different formats you can play — team, agent or mission ones. Each exciting in their own right, the basic aim is to defeat the opponent by gaining control of enemy camp. You'll need to aim to shoot the laser-sensitive spot on your enemy so don't think you can just indiscriminately fire. So, wear your gear — comfy shoes and clothes, because it is after all, war!
Fire Away
When I play laser tag, it's usually back-to-back a few times because the losing team never wants to exit the building knowing they lost! But as of a month, Talk To The Hand has introduced two live escape rooms — for INR 600 a person. Unfortunately, we haven't been yet, we're scheduling a visit soon, so watch this space for more. Meanwhile, there are several gaming consoles and a few arcade games to keep you entertained. Plus, a cafe serving up comfort food in the form of fries, potato smilies, sandwiches, noodles, pastas and milkshakes.
Ready? Set? FIRE!
More Information
Talk To The Hand
Nearest Metro Station: Jayanagar
Comments