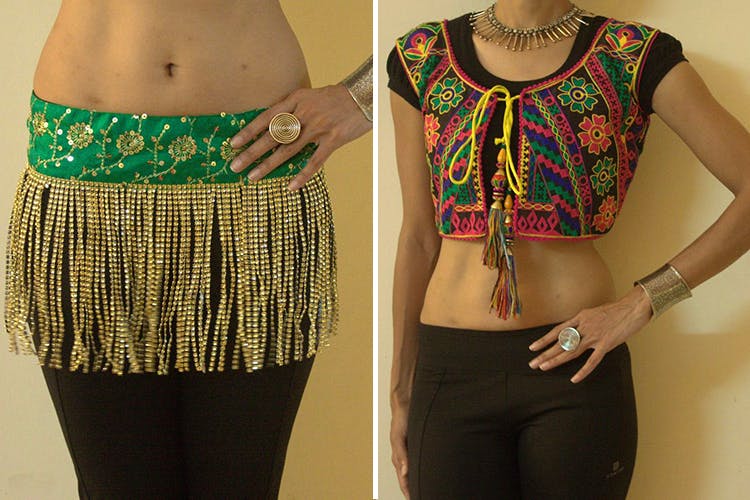 Look The Part When You Shimmy And Shake By Scoring A Dancers' Wardrobe From This Brand
Shortcut
After getting us all to channel our inner Shakira and shimmy away, the Tarantismo Dance Company is helping us dress the part too. Tarantismo Trunk is a brand that stocks up on clothing and accessories for dancers.
Shake It Off
Half the fun of dancing and performing is donning the fancy get up that you put on before hitting the stage. But that doesn't mean you need to miss out on dressing up everyday before you bust a move at dance practice and class. Be it a stage performance or regular practice, spice up the routine with the jackets, hip scarves and earrings from Tarantismo Trunk. Adding quirk and a pop of colour to your dance wardrobe, expect hip scarves in a range of hues, some of which have the little trinkets like tassels, metallic belts and pom poms attached to them if you're looking for something a little jazzier. Their tiny shrugs and jackets also pack in plenty of colour and kitsch to add to your outfit. Finish the look with their earrings and choose from metallic hoops and danglers to jhumkas with pom poms and long tasseled ones. They have beaded neckpieces too if you want to add more drama. With prices starting at INR 300 and going upto an easy INR 1,000, guiltlessly stock up on their fun merch.
Breaking It Down
A collection specially curated and designed for dancers, Tarantismo Trunk was born three years ago when their parent dance company, the Tarantismo Creative Dance Company recognised the need for costumes and accessories for dancers. As of now, they have costumes and accessories that mostly suit belly dancers, but they have plans to expand into merchandise for all kinds of dancers soon. An online store, you can check their stuff out and place your orders through their Facebook Page here. You can even catch them at flea markets as they often set up shop there. Stay tuned to their Facebook Page to know where they'll be popping up next.
Also On Tarantismo Creative Dance Company
More Information
Tarantismo Creative Dance Company
Comments