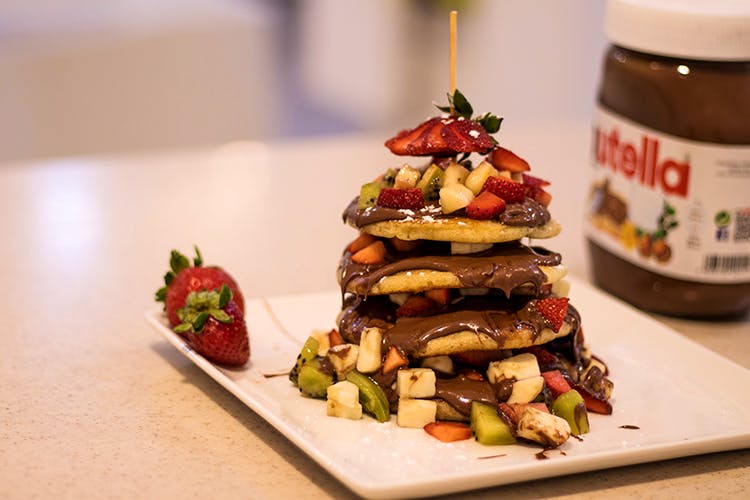 Delivery Available

Wi-Fi Available
City's First Nutella-Themed Cafe Will Satisfy Your Cravings With Nutella Pizzas, Crepes, And Shakes
Shortcut
Touted as Bangalore's first Nutella-themed cafe, Tella Tales in Koramangala is where you need to head to, to get your dose of Nutella cravings satisfied in the form of pizzas, crepes, sandwiches, and shakes.
What Makes It Awesome
It's touted to be city's first (and so far only) cafe that's dedicated to the world's greatest (come on, you know it is) hazelnut spread, Nutella. The cafe is all about celebrating the wonder spread that we have often had in excessive amounts. Expect tons of dishes —sandwiches wraps, pizza, pancakes, waffles, and milkshakes — that comes with Nutella. There are over 20 Nutella-based creations, so take your time with the menu, but whatever you do start off with the Marshmallow Sticks. They marshmallows coated with Nutella and drizzled with, well, Nutella.
If you are hitting the place solo, try Tella Banana Pancakes or Tella Nuts Sandwich. If you want to indulge or you are with the squad, then feel free to order the Tella Exotica Pizza that comes with berries, fruits, and copious amounts of Nutella. But if overdosing on Nutella isn't your idea of living life, there are cafe regulars such as pizzas, pasta, and burgers that you can munch on. Too much of even a good thing can be bad right? Pair your sweet cravings with regular, cheesy, or peri-peri fries to keep things in balance. Oh, and instead of a plate of fries, you can order a kilo. How about that?
What Could Be Better
The shakes can be a tad bit too sugary for many. Not for us though. Bring in a truckload and we won't mind.

Pro-Tip
It's best to gather your squad and head here so that everyone's Nutella cravings are satisfied!
Comments
Delivery Available

Wi-Fi Available