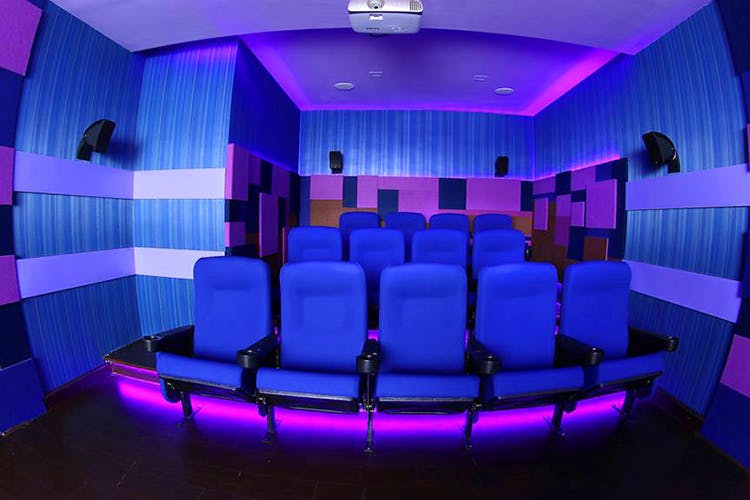 Watch Netflix, Prime Or Screen Your Own Film At Bangalore's First Mini Private Theatre
Shortcut
Touted to be the first of its kind in the city, TERIFLIX is a mini private theatre which you can rent out to watch films or shows from the your streaming media accounts or from their own library of films. Or even screen your own film for a small crowd.
What Makes It Awesome
A play on the word terrific, we think TERIFLIX is just that! Apparently the first in the city, this mini theatre lets you get off your couch, and watch your favourite TV show, Netflix programmes or essentially anything online, on a large screen. With a whopping 135-inch screen, a pro-level Dolby Atmos sound system for that theatre experience and 13 seats for you and your crew to fill up, this space is up for rent for a show lasting 3.5 hours. This means shamelessly watching Sherlock, Narcos, La La Land, The Harry Potter Series or even interesting documentaries that are available online on streaming platforms. We're planning to gather the squad and have a marathon session of scary movies starting with The Conjuring and its prequel and sequels.
While we haven't yet watched anything at the theatre yet, we hear that the quality is super sharp and the Internet speed will make sure that there's smooth streaming, and no buffering. If you're looking to add to the experience, take along your own popcorn. We're most excited that the remote control will be in our hands — to change the volume, channel, film, show or even pause for that inevitable loo break. Don't worry about having strangers at your private screening either. If there are empty seats, they'll leave them empty, even if you book out only two seats. How's that for privacy! Maybe roll out the red carpet and make it a bit dramatic! Priced from ₹3,900 for the entire theatre and lounge space, for 3.5 hours, it can be super romantic for a date, or an amazing plan for #FamJam. Prices vary for curated films in their library.
Pro-Tip
You can watch from your own Netflix and Amazon PrimeVideo accounts.
Comments