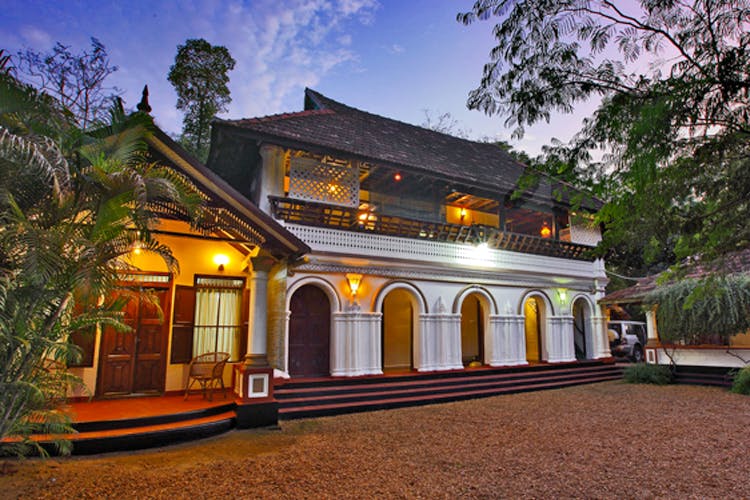 Appams And Backwaters: Check Into This Houseboat When You Are In Kumarakom
Shortcut
On your next weekend getaway, pick Kumarakom as your destination and explore the backwaters of Kerala with the Tharavadu Heritage houseboat. It's as Kerala as it can get.
Houseboat Ahoy
Sure, it's as touristy as it can get, but hey, checking into a traditional thatched Kerala-style houseboat with your SO is quite an experience. And not to mention the fact that exploring the backwaters of Kerala is a quintessential experience that one must have in God's Own Country! The backwaters of Lake Vembanad in Kumarakom is where the Tharavadu Heritage houseboat is docked at and your check-in destination for a weekend of true-blue Kerala style pampering and relaxation.
Once you check in to the spacious and well-furnished room of the houseboat, refresh yourself with a tender coconut water drink. We weren't kidding about the all-out Kerala experience. Cooled off? Hit the deck or the lounge room to kickback and let your weekend on pampering begin. Since houseboats go at a speed slower than that of a tortoise, you'll feel time's slowed down for you as you enjoy the passing expanse of lush green fields. Lunch is your typical Onam-style spread of seven types of vegetable curry and fish fry all done in Kerala-style. Expect the lunch to pack a punch. Retire to your room or the sun deck for your afternoon nap. Come evenings, mosquitoes notwithstanding, the cool breeze should keep you and bae all comfy and happy.
Heritage Homestay
Tharavadu Heritage also has a palatial and traditional Kerala house for you to check into if boats aren't your thing. Complete with WiFi facilities, the 140-year-old homestay is located on the banks of Lake Vembanad, meaning, you've got yourself a room with a view. Check into the heritage home with the ACs, luckily, as afternoons tend to get sultry and humid. Coconut trees, mango trees, and typical Kerala evergreens fill up the courtyard and the surroundings, giving enough space and cover for a morning stroll.
Even if you skipped staying in a houseboat, you can still get the houseboat experience during the day where you will cruise along Lake Vembanad and the backwaters of Kumarakom and Alleppy. Be sure to check out the Kumarakom Bird Santuary while you are at it. If you are not planning on stepping out and exploring the city, you can take part in the traditional art and music programmes that the property usually arranges for guests. These programmes could be anything from a traditional chenda melam to a full-fledged mock Kerala wedding. Yup, a full-fledged wedding for you to attend and tick off in your must-do list.
Comments