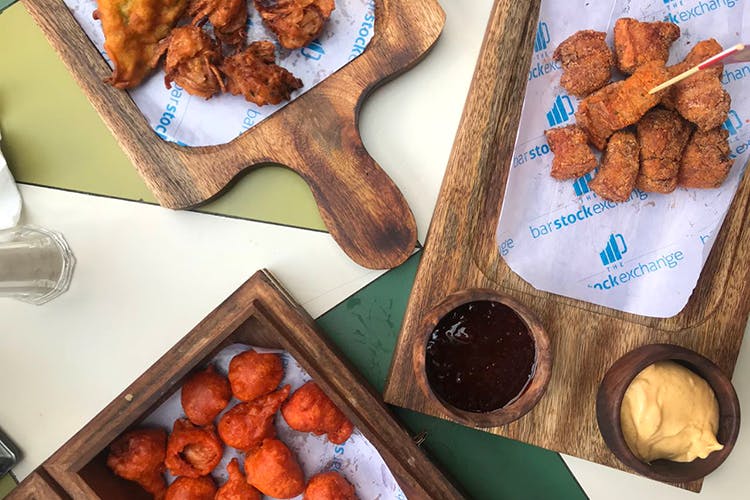 MG Road's OG Bar Stock Exchange Wins For Killer Vibes, Misal Pav Fondue And Army-Theme Decor
Shortcut
The Bar Stock Exchange's first outlet in Bangalore will fix you up with some deep discounts on all your favourite tipple, some killer bar nibbles and substantials that includes Chicken Tikka Popcorn and Biryani Bowls, and an Instagrammable army-themed decor.
What Makes It Awesome
Once you enter through the massive red door, you will feel like you have stepped into an army base camp of sorts. You will spot the Willy's jeep, which you can totally 'Gram, to start with followed by huge missile props hanging from the ceiling, and fuel tanks, metal boxes, and plenty of grenades (that won't ever go off) completing the military look. Oh, and did we mention that the chairs come with military uniform upholstery?
Since it's a trader bar, LED TVs are all around you displaying the day's liquor deals and what are the highs and lows. A massive screen flanks the main bar side and that's your spot for all sports screenings. This is THE place for squad meetings. Of course, there is a set price for when the market doesn't get cheaper, but that is pretty cheap. You can get Old Monk for as little as INR 19 for a 30ml fill. You even get a 12-Year-Old Glenfiddich for just INR 215. These are rock bottom rates, but even the most expensive isn't too bad. It all depends on the market! We just enjoyed the whole game of ordering at the right time and getting a whole evening worth of drinkies (at least four to five rounds) for just INR 800.
The menu is fun and extensive, with small plates to accompany your drinks. Start off with the Misal Pav Fondue and Bhajjiya Platter. The fondue, set up like a cheese one, will keep the conversation going while the platter wins for the cheese-stuffed bharwan chilli. Pick Chicken Tikka Popcorn and Calamari Techas to pop in during match screenings. For something more sinful, order the Twice Cooked Pork Belly — juicy with deep-fried batter, it's laden with calories, but more importantly happiness!
Being a watering hole, we love how they make ordering easy, for those who've had too much. Just pick bowls! There are the Syrian Catholic Pork Curry and Biryani Bowl in case you are looking for something comforting. Mind you, the portions are quite huge, so order only if you have a ravenous appetite. While watching a game, we suggest the pork ribs — sweetish, and meaty.
Pro-Tip
You'll need to download the app to bid for your drinks.

More Information
The Bar Stock Exchange
Nearest Metro Station: M.G. Road
Comments