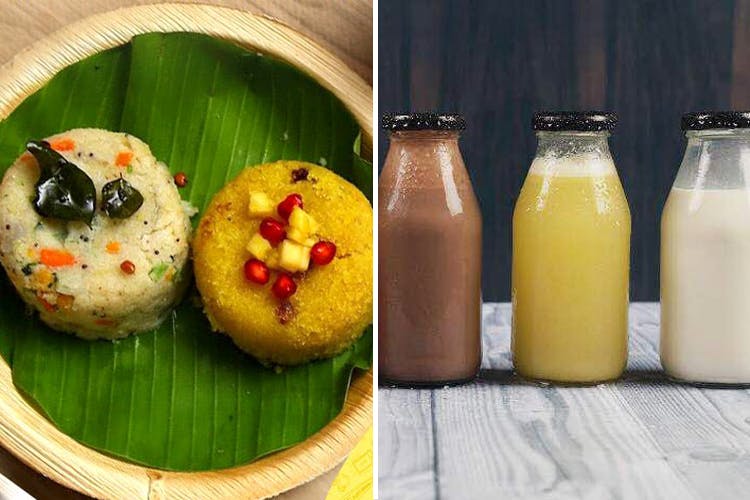 Kesari Bath To Choco-Peanut Blasts: This Brekkie Startup Knows How To Kickstart Your Day
Shortcut
Kalyan Nagar and Electronic City folks, begin your day with brekkie that's fit for a king! The Breakfast Club, a new delivery service, is pulling out all stops.
Brekkie Binge
No time to whip up breakfast? Then, The Breakfast Club may just be what the doctor ordered. An online and an app service, The Breakfast Club bring you, your first meal of the day to your doorstep, provided you live around Kalyan Nagar or Electronic City. You can either go for one-time orders or pre-book your meals in advance so that you have hassle-free mornings.
The service's menu is pretty extensive and you can go from no-frills to pretty extravagant. For weekends, when you want a bit of grease to help you conquer a raging hangover, the Sorry, Not Sorry! makes for an excellent option. For just INR 280, they'll deliver a downy doughnut, chicken wings that have been done up in a sticky sauce, and a bag of fries. Along with this, you can chomp on a rather generous chicken burger that proves to the perfect antidote to your hunger pangs. You can pair this up with a refreshing pineapple juice or go for their Choco-Peanut Blast, a deliciously sweet and silken concoction that tastes a lot like liquid Snickers.
North To South
On a regular day, you can choose their Dakshina Ruchi platter that comes stocked with a masala dosa, vadas, and idlis. Chutneys and sambhars accompany these. But the star of this offering is easily the Kesari Bath, that's generously made with dollops of ghee and bits of juicy pineapple. This, like their other platters, can easily fill up two people. 
However, during our taste test, we were sorely disappointed with the Naashta Dumdar — the offerings from the North. The aloo paratha was adequately stuffed but without a helping of curd or pickle, they were too dry. The poha too was overcooked. But we had no problems with the Benjo — a bread omelette of sorts — nor the succulent jalebis that disappeared in record time.
Comments