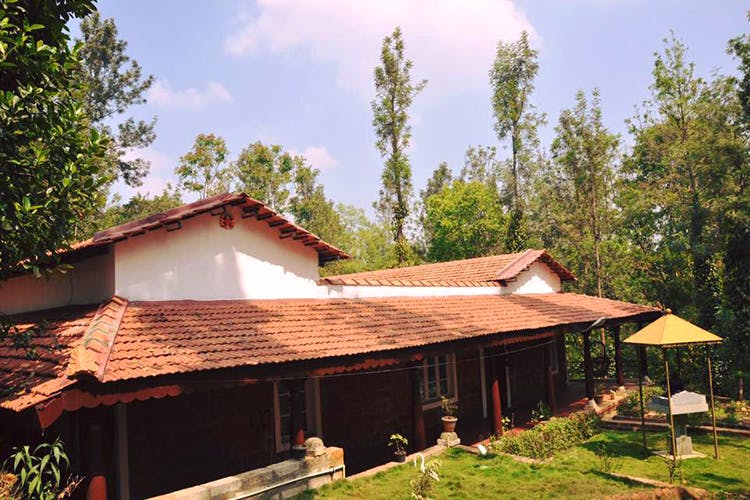 Live The Plantation Life And Eat Malnad Food At This Traditional Homestay In Chikmagalur
Shortcut
The Courtyard is a traditional homestay set amongst the cascading greenery of Chikmagalur's coffee plantations and needs to be booked for your next weekend escape.
A Home With A View
A classic postcard homestay with traditional Malnad architecture, the property is set in a idyllic location, bang in the middle of a coffee plantation. Plus points include sparkling lakes and meandering trekking paths. Antique furniture details and vintage accents add a historic touch to the property, with its spacious corridors, red-oxide floors and carved pillars. The home is built around a scenic courtyard, perfect for relaxing and watching the rains, especially during the monsoons.
Live The Plantation life
The Courtyard is surrounded with gorgeous views that can be admired from your balcony. Watch the rains over the plantations while you lounge around on the resort's antique swing, or if you are in the mood for adventure — the Courtyard folks can organise a trip to the nearest sights and sounds. Meals here include Malnad-style home cooked food, but if you want to dine on something else, they can always whip up dishes for you on request.
Sights and sounds
The property is a short drive away from the Bhadra wildlife sanctuary, and Hebbe Falls to which treks can also be arranged. Also don't miss a visit to the 10th century Belur Temple with a massive gravity pillar that supports itself! The team at The Courtyard can also arrange activities on request, such as treks, bird-watching and an evening bonfire.