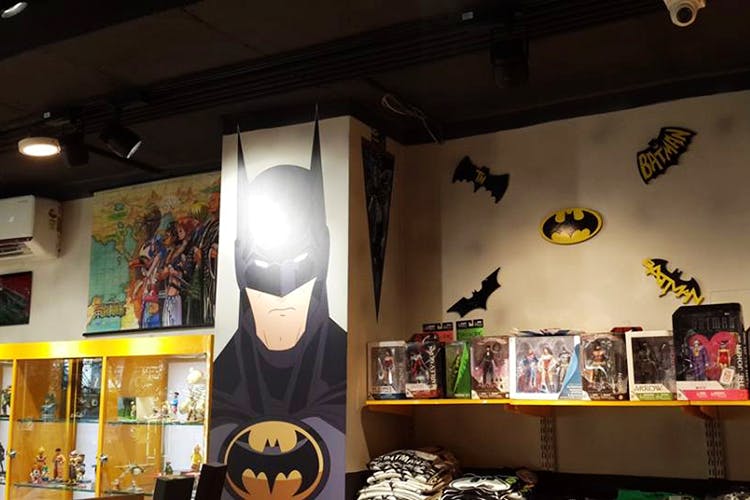 Bobbleheads To Lightsabers: This Quirky Store Is Heaven For Gamers, Comic Lovers and Geeks
Shortcut
Geeks, ahoy! Be it your fill of Bazingaa tees, lightsabers, The Godfather posters or elusive editions of comic books over the years, The Entertainment Store has got your back.
What Makes It Awesome
The first store dedicated completely to comics, pop culture and video games, The Entertainment Store is the brainchild of Satish Khemchandani. The store has been curated with passion, right from the Avengers painting on the wall, made to look like The Hulk has broken through it, to the rows of comic books which you've probably spent years trying to track down. Plus, so much original merchandise from Harry Potter, The Lord of The Rings, The Simpsons, Doctor Who and Star Wars series that we can't get enough of. Oh! And even Marvel and DC stuff which will make you drunk with happiness!
The second floor houses the comics, posters, music and film originals, so get your fill of quirky décor, limited edition DVDs from iconic artistes like The Beatles, Pink Floyd, Jimi Hendrix and Justin Beiber (don't even bother to understand this if you're a post-2000 person!). Bob Marley's dreadlocks, Jimi Hendrix' afro and John Lennon's trademark glasses too feature on merch, so if you're a fan, then those are some subtle things you will love.
Bobbleheads, key rings, coasters, tees and miniature replicas (how we want the Darth Vader and the Storm Trooper ones). Gamers, don't feel left out. Apart from old favourites including Mario, Assassins Creed and Call of Warfare, there's FIFA, Pro Evolution Soccer and God of War's latest editions too. For old times' sake, Tintin, Asterix, Tom and Jerry, Tinkle and Amar Chitra Katha find pride of place here too. Our current favourite, however, is the Minion walkie-talkie and The Dark Knight Rises ring which projects the Bat signal onto any surface.

Pro-Tip
Make sure you set aside a budget or you'll empty your bank account, and leave plenty of time to browse and have in-depth discussions with Satish. Check out their Facebook page for gaming, comic book and literary updates, as these guys are super clued in.
More Information
The Entertainment Store
Nearest Metro Station: M.G. Road
Comments