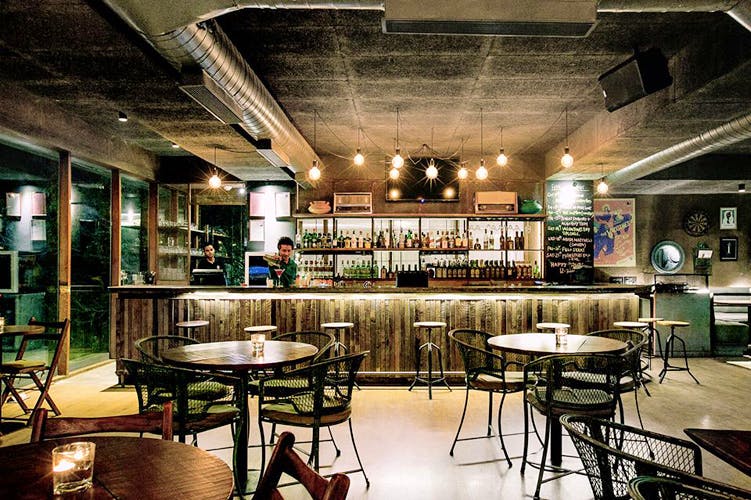 Nearest Metro Station:

Indiranagar
Music, Theatre and Comedy Meet Sangria, Pizza and Mocha at The Humming Tree
Shortcut
Arty, eclectic and interesting, The Humming Tree  is all about ambience and the music. Plus, cocktails and pizzas to keep your other senses appeased.
Tune in
Be it interesting local artistes like Mad Orange Fireworks or national favourites such as Indus Creed, you'll find at least one night of music each week to cater to the most eclectic taste. Throw in international bigwigs such as Boyce Avenue, Mark Ronson, Ratatat and Skrillex and you don't need to whine that you can't get to Coachella. In addition, they host lovely workshops (like puppet making for kids and salsa for adults), have ace comedy nights and theatre performances. And for a relatively crowded place on most days, what is remarkable is that you feel like you belong.
On the menu
Yes, you don't go here for food, but they still take it seriously. Chilli Basil Chicken in a light Thai sauce, Chilli Garlic Prawns (rather large shrimp tossed in red chilli, olive oil and garlic) or Roast Pork in Rosemary hit all the right notes. For mains, pick any of their pizzas – our favourite is the Prawn and Bacon (you see why, yes?) or the Goat Cheese Margherita for vegetarians. Beer Battered Fish and Chips is a great boozy option. As is the meaty Beef Roast is a fiery pepper sauce. They also have sandwiches, baps burgers and pastas. End with Mocha Tart – a match of brandy, coffee, almond and dark chocolate, made in dessert heaven.
Cheers to that
A chilled beer is the best option in the atmosphere, but they do a mean Sangria and Bloody Mary. Yes, yes, no holding back on alcohol. Try their special cocktail, named for bands and singers. Our top pick is Pearl Jam's Given To Fly which shakes up Baileys, Old Monk, Triple Sec and brown sugar – rich, smooth and dark, like the band's music.
The look and feel
A charming terrace with colourful metal chairs (ideal for brunch) and a vast indoor section with red brick walls, metal high tables, bar stools and stunning acoustics downstairs, the vibes make this place.
So we're thinking…
Currently unparalleled for their gig ambience and line-up, this place will keep us coming back for the music. That said, for a casual catch-up, the food and cocktails are pretty decent too. So it really is quite a win-win situation.
Comments
Nearest Metro Station:

Indiranagar