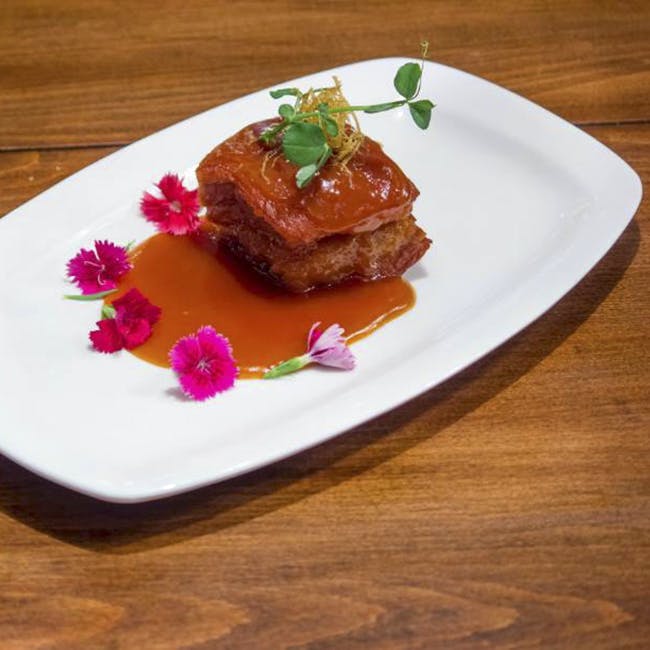 This Restaurant Has Peking Duck And Dim Sum Steamier Than Lady Gaga & Bradley Cooper's Performance
Shortcut
With two new chefs helming The Lantern, at Ritz-Carlton, you can expect more accessible menus, fine cocktails, and of course, slightly reduced prices. Gear up for modern Chinese cuisine meets Traditional Cantonese, with a smattering of favourites like Kungpao Chicken and Hainanese Rice.
What Makes It Awesome
For these special dates, or celebration dinners, check out The Lantern at the swish Ritz-Carlton, which has a new menu, new prices, and comfort Chinese food at it's best, thanks to Master Chefs Chow Chee Meng and Chan Kah Kwok. We kicked things off with dim sum -- Chicken Shumai, made with wonton skin and chicken, and the prawn and pork version of the same. Plus, some divine Char Siu Bao, that's steamier than the Lady Gaga- Bradley Cooper performance at the Oscars! Baked Chicken Puff that is in a Chinese pastry filled with barbecue is also a refreshing change. For same-old starters, but delicious no less, pick Crispy Vegetable Spring Rolls and Cheung Fun which is rice rolls, with sea bass, chicken, prawn or mushrooms and truffle oil.
For something traditional and filling, the Peking Duck will do. Available in half and full, it comes with Chinese herbs, duck meat, steamed pancakes and Hoisin sauce. Get rolling as this one's a DIY dish! They have this recipe down to perfection, and I'm comparing to the original in Beijing! For mains, we highly recommend the ultimate Chinese comfort dish -- Fijian-Style Rice. Braised steamed rice comes doused in chicken, diced veggies and a brown sauce. This is food for the soul. Or pick the Hainanese Chicken rice. A favourite street-food and home fix in Singapore, this one also will heal your soul with chicken, rice and a gravy made from oyster and soy sauce. Like your mains separate from rice, try Kung Pao Chicken (the traditional cashew, dry chilli, and vinegar one) with rice or noodles. It's yum. Those who love seafood, simply order Atlantic Salmon in a mild Teriyaki sauce, or the Chili Lobster in a sweet and spicy sauce served with Man Tau Bun (steamed buns)
End with Chilled Pumpkin Puree which is Chef Chow Chee Meng's home recipe, and comes with tender coconut ice cream. If you like your dessert light, fruity and not too sweet, opt for the Lemon Grass Jelly that is jelly, lime sorbet and fresh fruits.
Pro-Tip
Vegetarians, do not leave without having homemade bean curd. It's soft, fluffy, and melts in the mouth. The dish has Shimeji mushroom, black truffle, vegetarian oyster sauce (yes, 100% vegetarian), in a secret pumpkin sauce with asparagus and edamame.
More Information
The Lantern Restaurant & Bar - The Ritz Carlton
Nearest Metro Station: M.G. Road
Ask Aakanksha a question