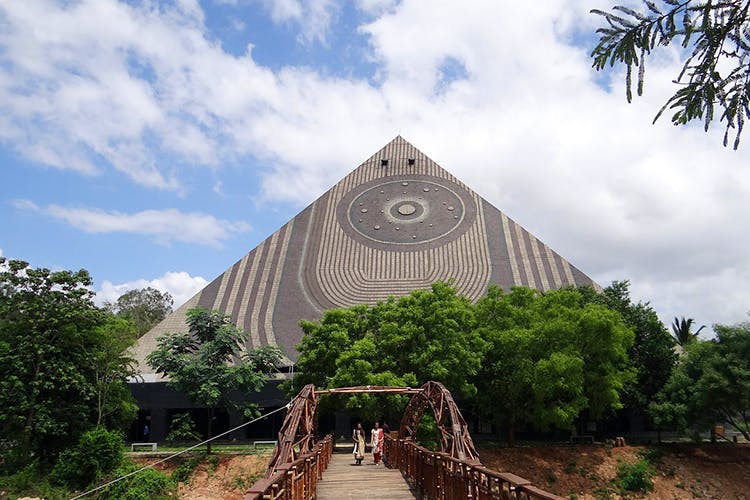 Full Moon Meditation And Gorgeous Views: This Zone Is For The Spiritual You
What Makes It Awesome
Just an hour or so away from the city, the Pyramid Valley is a massive space dedicated to meditation and spiritual practices whether you are an amateur or veteran. The landscape design and architecture of the Pyramid Valley is inspired by scientific research on meditation practices and offers a peaceful space to meditate. Whether you are a beginner or a veteran, or knowledge seeker of spiritual wellness, the Pyramid Valley has something for everyone, from a choice of meditation spaces, a library and even regular flea markets. Taking inspiration from the Pyramids of Giza, the main meditation hall is in the shape of a colossal pyramid known as the Maitreya-Buddha Pyramid.
If you wanted to get away or spend some quality time meditating solo, try their smaller meditation spaces all topped with a pyramid roof. There are meditation huts amidst coconut groves, and also elevated spaces with fabulous viewpoints named after spiritual gurus — Osho and Rampa. If you would like to combine an activity, climb up the hilltop 'Tapastali' for a more in-depth meditation practice with a view of the beautiful surroundings. the centre has a library and dedicated bookshop with music, videos and products. Their events calendar is bustling with mediation coaching classes, spiritual talks from reputed gurus and frequent workshops.
Pro-Tip
The campus is located on Kanakapura Main Road and is roughly 50 km away from the city centre. It takes about two hours to get there so we suggest making a short drive out of it. The centre is not just for staunch meditators, it also offers a peaceful getaway with plenty of trekking paths and beautiful water bodies.
Comments