Trendy Culottes And Elegant Capes From The Sewing Machine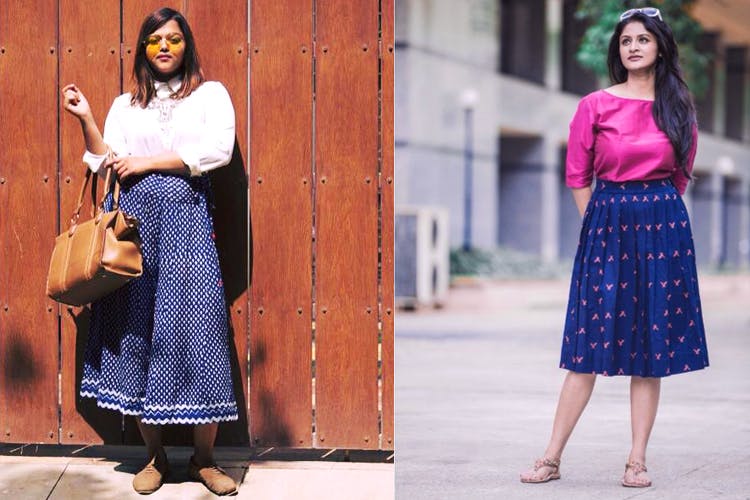 Shortcut
Bangalore-based The Sewing Machine is all about the now-trending culottes, crop tops, a-line skirts and free dresses.
Trending Now
Global fashion weeks were enough to remind us that culottes are going nowhere out of trend — not for a while, at least. And designer Ankita Bajaj Shankar has cashed her collection on this swing, and how! Chambray, bold prints, and the good-old solids, culottes and palazzo pants of interesting kinds are handy here. If you're tired of going through e-commerce platforms with a million things to offer, leaving you confused and undecided, and sorting filters can seriously be a real pain sometimes, The Sewing Machine is an easy stop. It has few options and lets you see what you want to see. This indigo pair can be worn to breeze through a tough day at work. We like that they also keep curvy girls in mind while making these. Someone's doing something right!
Skirting The Issue
A-line skirts with perfect neat pleats, prints and modest lengths that stop at the calves, these numbers however brunch-worthy they look, can easily be worn to formal occasions as well. Archie Comics' fans, this short skater skirt is totally going to make your day! Among the dresses, we like the long, unstructured and free printed dresses. This shirt-dress in abstract print and this floral cape are stealing our hearts. The Sewing Machine's collection of crop tops will not leave you disappointed — very chic and very celeb, the ones made in silk, nail the elegant appearance. Even the boxy crop top with toucans and the one with timeless polka dots are worth adding to the closet. They can be paired with the skirts or the culottes that are on deck.
Cape Crusaders
The waistcoats, capes and jackets can add some instant kitsch to your otherwise simple outfit. Hand-block printing and bead detailing define the waistcoats that are at hand in vibrant colours and retro motifs. This one in mustard is a total winner! Pair them with your ethnic best or with a basic white kurta and jeans. The long structured capes are also a great accessory to add some drama to a basic outfit. We really like this minimalist one in grey and chevron print. Price: INR 1,000-2,000 Contact: +91 9986814448 or e-mail them at thesewingmachineofficial@gmail.com Check out their website here to place an order. Find them on Facebook here.
Also On The Sewing Machine
Comments (0)