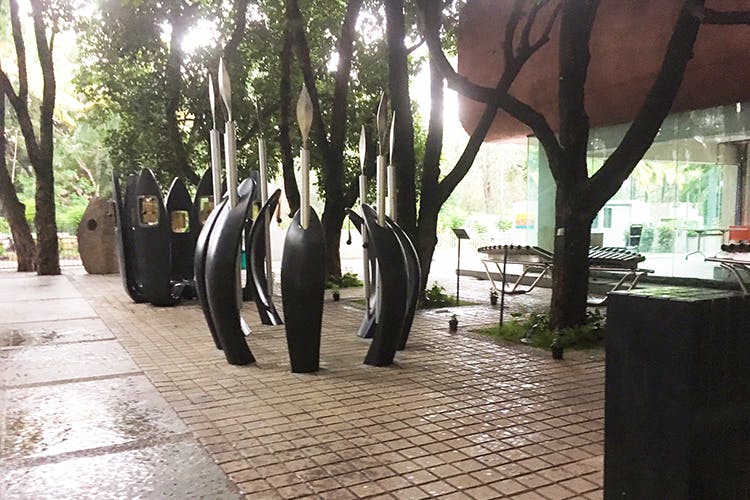 Nearest Metro Station:

Jayaprakash Nagar
Explore Musical Installations At The Sound Garden In Bangalore's First Music Museum
Shortcut
Devoted entirely to sound and music, The Indian Music Experience is a spot like no other with a sound garden that is an experience unto itself. With large musical installations that you can chime, play and hum into, this sound park is one you don't wanna miss.
What Makes It Awesome
The music museum inside JP Nagar's Brigade Millennium is still on its way to becoming a full-fledged celebration of music and sound with some last minute renovations going on in the museum, and their upcoming music-themed gift shop. With around 11 musical installations outside, all made entirely of natural elements like stone, metal and wood, these peculiar instruments of music are designed to let you feel the vibrations as you play them, acting as a quick physics lesson too.

Some of our favourites at the garden include The Sound Table, a giant xylophone of sorts that you play with a mallet, The Sound Strip that runs across an entire wall that you can play up and down your path to their basement, and the Sound Stone, that is just a simplistic block of marble that also vibrates to give off sound and make music. Other interesting pieces include the Window Chime, operated electrically (don't touch this one, guys!) and the Humming Stone, with a hole you can stick your head into and hum as you feel tingling vibrations all over.
It costs INR 100 for entry, but the cafe is free (so don't touch the instruments that happen to exist on the way there, or you'll have a guard yelling at you for doing so). Currently the center hosts classical Indian music (vocals) and dance lessons for children through the week, so if you're around for inquiries, or catching up on some work (no WiFi though) you can chill at their cafe to the sound of soothing chimes under the shade with a coffee and some hot sabudana vadas.
What Could Be Better
If you are visiting their cafe, only order something that is made fresh. Avoid the fries, dessert, and juice unless you're starving and very broke.
Comments
Nearest Metro Station:

Jayaprakash Nagar