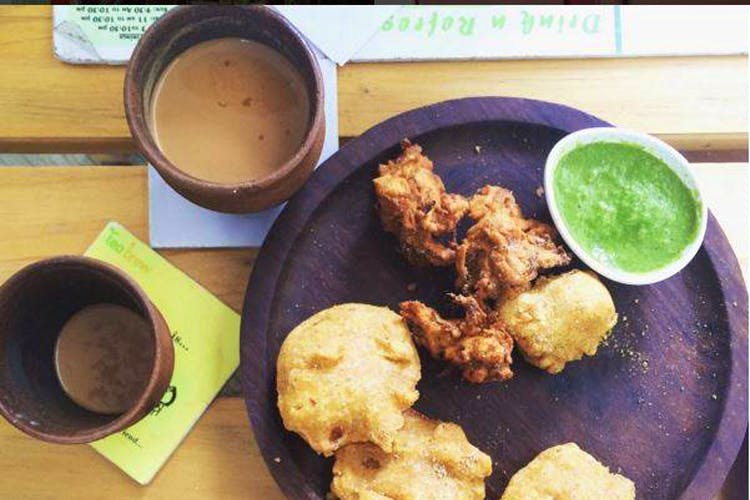 Set Fire To The Rain With Our Ultimate Monsoon Guide
The rains are here and brace yourselves for untimely showers, thunder and a whole lot of potholes in the city. It is time to pull out your raincoats, umbrellas, gumboots and my favourite vinyl tote bags. Warm up with good old some chai and pakodas or a bowl of steaming ramen. Thinking of where to find them all? Don't look any further. Check out this ultimate monsoon guide and fight the rains (if you dislike them, like me) or just enjoy it while it lasts.

Warm Up With Some Chai, Maggi and Momos
Keep yourself warm with a glass of hot chaya/chai from Chai & Kadi in Indiranagar along with onion, banana bajis and masala pakodas. Not a chai person? Tea Brew's hot chocolate would keep you warm and cosy. If rains mean a hot bowl of Maggi, then head of Kitchen of Joy. This humble cafe serves not just plain Maggi but also Cheese Maggi and Egg Maggi to Chicken Sausage Maggi, Chicken Sausage+Egg+Veg Maggi, and Mutton Kheema Maggi. A hot plate of steamed momos in the monsoons is pure love. Check out Mama Mimi Momo in RR Nagar that serves vegetarian momos in generous sizes and prices.

Waterproof Dressing To Keep Yourself Dry
Stock up on raincoats and gumboots for your fam jam and yourself from Versalis in BVK Iyer road. If you like cute umbrellas, then head to Ilahui on Church Street. This Korean store stocks up on cute umbrellas and raincoats with fun prints in pastel colors that satisfies the K-POP fan in you. Looking for some more options, fun prints and pop coloured umbrellas? Then check out our picks here. Rains mean Vinyl bags and shoes emerging back in fashion (internally screaming). Check out Zara and The Label Life for some cute vinyl tote bags that would keep your essentials rainproof and rewind back to the 90s with pop colored bags and shoes.
Bath And Body Products For The Season
Is wearing make-up a part of your daily routine? Don't want to end up looking like you are out of a horror movie or just dressed for Halloween? Don't let monsoon do that to you. Check out water-proof makeup from Colorbar (if you are looking for vegan options) and Sephora and look flawless despite the rains. Stock on the coconut milk variant shampoo bars from Organiq Soaps made from sweet almond, jojoba, and rich coconut milk to keep the frizz in check and have good hair day. Monsoon brings along a herd of mosquitoes with it and if they love you as much as they love me, then Organiq Soaps' natural bug-off (mosquito repellent) bars would come in handy.

Keep Your House Monsoon Ready
Leave those cotton durries and throws behind and bring out the warm and fuzzy blankets in different hues of greens, blues, and yellows to brighten up your room. Check out Home Center's range of flannel blankets and stay warm. Make a trip to the Eco Store in HSR layout and add some citronella essential oil to your basket to keep your living space pest free. And, to make it extra comfy, just buy yourself a book from Blossoms to curl up with.
Take A Break And Drive Around The Hills
Take a break and head to Coonoor and check out the tea estates amidst the mist and cold weather. Sip on some fresh tea and drive around with some cold breeze and beautiful sunsets. While you are around Coonoor, check out Kotagiri for some calm and lush trees. Another spot that you should add on your to-visit list during monsoon is Jog falls. It is one of the best waterfalls in Karnataka and comes alive during the monsoons.
Comments