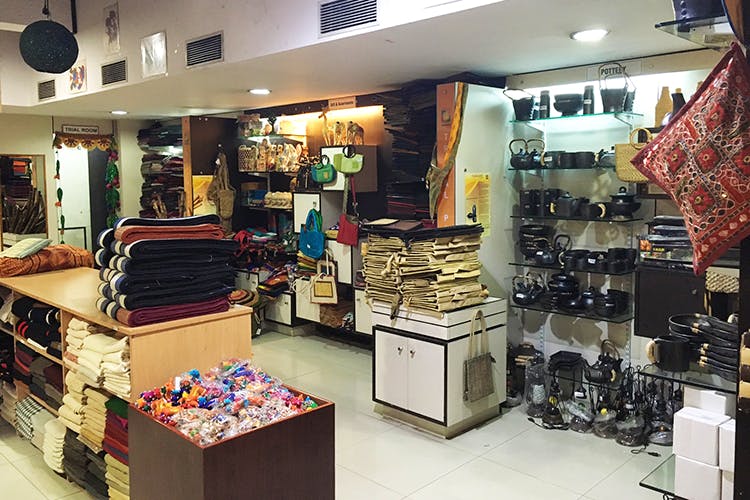 Head To BDA Complex In Koramangala For Your Shopping & Eating Needs
The BDA complex in Koramangala is popular for having government and transportation offices (this is where you go to get your driver's license). But the one in Koramangala has a variety of clothing stores, stationary (and xerox) shops, as well as government promoted handicraft outlets. This is your one-stop-shop for all your shopping and eating needs.
Mrignayanee
Mrignayanee is a Madhya Pradesh government emporium that sells fabrics made out of weaves and hand block printing. Dress materials is one of their popular products and is available in materials like Maheshwari, Tussar and cotton fabrics. You'll also find bell metals which takes shape with melting wax hardened in a ball casting.
Tribes India
Tribes India in BDA complex is filled with tribal treasure in the form of gorgeous paintings, textiles, jewellery and organic food produce. You'll also find clothing like saris and kurtas (that you can even wear to weddings). Their home decor includes old school glass lanterns and Dhokra metal pieced (made by the tribes in Orissa) which will add glam to your house.
Garvi Gurjari
This is a Gujarat state handloom store that sticks to regional traditional craftsmanship. Sarees, shawls, bed covers and even furniture is available here. The colour and design patterns used here are reminiscent of the Gujarati styles. The folks here sell crafted items like bamboo and bead crafted gift items as well.
Priyadarshini Handlooms
This store is an initiative by the Karnataka Handloom Development Corporation. Selling Ganda Berunda silk and Coin silk sarees, Priyadarshini also sells cotton shirts, and curtains as well. Jhamkanes or floor mats with coloured stripes and cotton tablecloths are products that we really liked.
Venus Stationers
Venus has been around since 1999 and is a constant go-to for professionals and offices with bulk stationery supply needs. From calculators to handmade stationery, head here if you're worried about not finding your specific needs. If they don't have it they'll source it and call you when they get it.
Sangam Sweets
Sangam Sweets sells chaats and a variety of Indian desserts. It is a small store with no seating space but still attracts a huge crowd that stands outside the shop nibbling on snacks because of the amazing quality and taste of food here. Keep an eye out for the hot Jalebis they make every Sunday, you'll see a huge crowd so hard to miss it.
Ask Amrutha a question