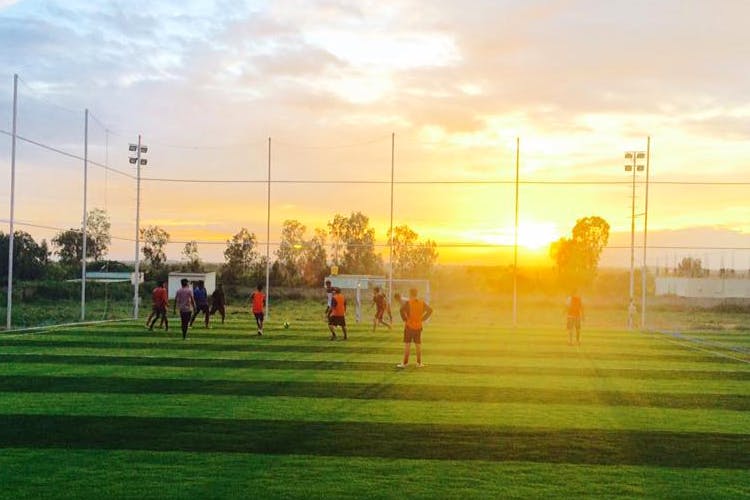 Midnight Footie, Trampoline & Dog Park: 5 Awesome Things To Do In Electronic City
Shortcut
Electronic City is cool (-ish?) okay. We checked out the place and we found that it's got more than just apartments, traffic and tech parks. E-City peeps, this one is for you!
Dribble, Tackle, Score And Repeat At Footymonks
There's nothing more exhilarating than playing a game of football with your buds or people from the office. Head to the astro turfs Footymonks and play an hour of six-a-side football. They also have an eight-a-side turf as well in case you are calling the whole neighbourhood. The timings are from 5.30am to 2.00am, and you need to call and book your slot in advance. The prices are INR 1,000 per hour for 6-a-side, and INR 1,500 per hour for 8-a-side.
Get Fighting Fit At The Indian Combat Sports Academy
This MMA school has a special focus of the Brazilian Jiu-Jitsu along with kickboxing and wrestling. The MMA sessions here weave striking and grappling skills from kickboxing, Jiu-Jitsu, and wrestling all into one making it the perfect way to get fit while picking a few kick-ass skills on the road. This is real street cred guys! They have a branch in Bannerghatta as well.
Bounce, Jump And Get Fit At Play Factory
Getting fit got a whole lot more fun with a lot of bouncing and jumping at the 10,000 sqft of sheer trampoline space of Play Factory. So much room to go crazy and just jump and even burn those calories, that you'll have a ball of a time with your squad, fam or one of those corporate 'team bonding' sesh with your colleagues. You can read more about Play Factory here.
Chill With Pooches At PuppyOye Dog Boarding and Dog Park
There's a large space for you to bring your dogs and play with other doggos and connect with pet parents. There are enough and more puppers for you to ruffle and cuddle all through the week. The large space that's basically dedicated to boarding your pooches when you are going away home for the weekend or for some business trip. Doctors on call, well-trained staff, and a leash-free environment are what PuppyOye offers.
Comments