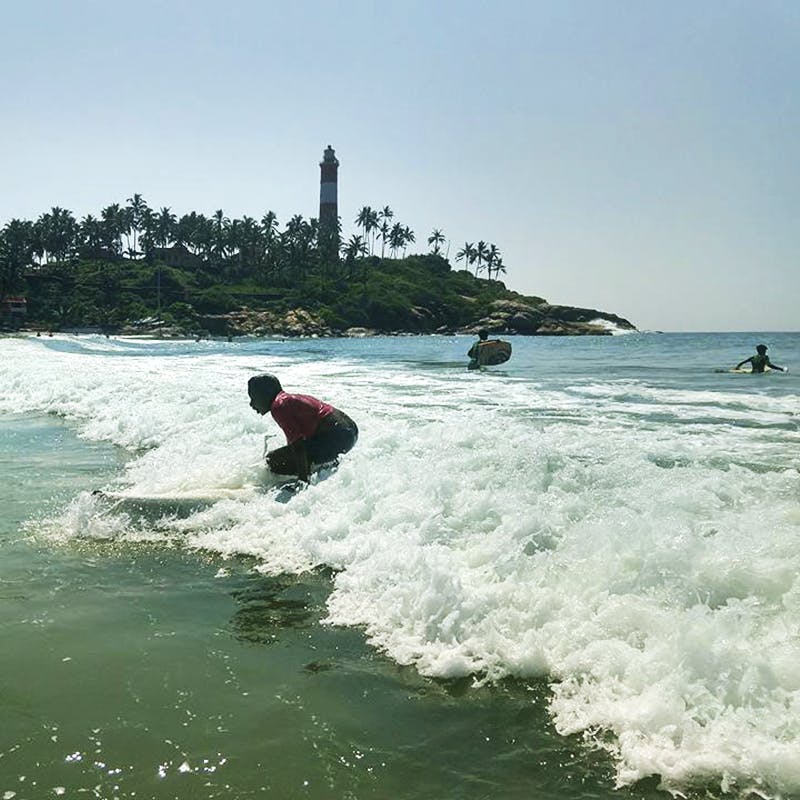 Castle, Lighthouse, And Surfing: Five Things To Do At Kerala's Most Popular Beach, Kovalam
Kovalam is arguably Kerala's most popular beach town and we have lost count of the number of times we have visited Kovalam's three crescent beaches. But more than just beaches, we realised there's a lot to do in Kovalam. And that includes riding (or learning how to) the waves, marvelling at the architecture of a castle, and indulging your inner adrenaline junkie.
Beach Bum It Up At The Three Crescent Beaches
Kovalam Beach is made up of three crescent beaches -- Lighthouse Beach, Hawah Beach (or Eve's Beach), and Samudra Beach -- with Lighthouse being the most touristy and Samudra being a little hamlet for some private beach time. Be sure to explore the Vizhinjam Lighthouse located on the top of the Kurumkal hillock and catch that panoramic view.

Ride The Waves
Kovalam Surf Club is one of the best surf clubs in Kovalam and these are the guys you need to go catch, and ride those waves. Even noobs can sign up for the classes that will have you paddling in the beach and trying out some sick moves like cutbacks and tube riding. Prices for the classes start around INR 1,000 and they will give you all the required gear. Or you could rent surf boards when it's time to surf up.

Explore A Castle
When you are in Kovalam, there's no way you can miss out on the Halcyon Castle. It was once the summer retreat of the queen of Trivandrum; today it's a part heritage property and part hotel. The castle is also known as Kovalam Palace and it's designed in typical Kerala-style architecture with a blend of colonial style.

Boating In The Backwaters
Boating along the Karamana River is something that you cannot miss out on. The serpentine river cuts through the city and apart from stunning views, what's on offer are backwaters, greenery, and Kerala at its laidback best. You can also consider catamaran rides at Hawah Beach and boating in Vellayani Lake.

Dive Into The First Artificial Coral Reef
It's touted to be India's first artificial coral reef and for those of you who can't make it to the Great Barrier Reef, this is as close as it can get to the real thing. Scuba diving clubs in Kovalam regularly offer patrons scuba sessions around this region, so we recommend you sign up for one of these.

Ask Sreepathy a question