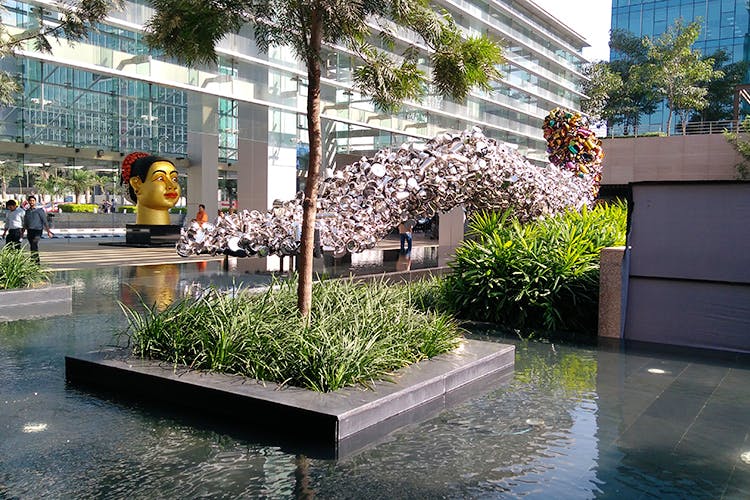 Art Installations To Poolside Dining: Five Things You Didn't Know You Could Do At RMZ Eco World
If you are living (or just working) in Marathahalli and you have nothing to do with tech parks, then chances are you might think that these parks are off limits. Boy, were we wrong when we were recently invited to check out a co-working space inside the rather confusing and highly secure (there were sniffer dogs) complex of RMZ Eco World. Here are the five things that you, as a non-tech park person, can do at RMZ Eco World.
Check Out The Art Installations
The Bay at RMZ Eco World is home to art installations by artists such as Subodh Gupta, Paresh Maity, Arun Kumar HG, and Dhruva Mistry. Whether you are an art enthusiast or not, you are going to love the artwork that comes in all shapes and sizes. Our personal favourite is the Thosa Pani installation right at the entrance by Subodh Gupta which features a metal cascade of welded everyday utensils such as tiffin carriers, buckets, pots, and pans designed like a wave. Cue Instagram posts.
Spend A Day At The Amphitheatre
The amphitheatre is an event space and it massive! Come event days, you will find the space packed with people from all around the tech park, but on non-event days, it's a nice place to sit down and work in the sun. Or catch up with your friends who are working in RMZ Eco World. In any case, you won't be shooed away by the security personnel who monitor the area wearing camo trousers and look like they're about to go to war. Keep an eye out for film screenings too. It's quite the experience when you watch it in the open air here.
Eat, Drink And Make Merry
While the food court is an ideal place to grab lunch with the usual array of your fast food joints such as KFC, Subway, Burrito Boys (no guesses on what they do), but it's the mini-collection of fine-dining and chilled out options that we love. For starters, there's Starbucks for you to chill out and drink err… slightly expensive coffee. If coffee is not what floats your boat, there's the green pastures of the Irish for you to make merry. The Irish House has crazy happy hours for you and your work buds to have a blast. You can even head to Chili's next door for your dose of heavy-duty American grill fare. Save Bombay Brasserie for the date nights we say with their cute decor, private tables, and modern Indian menu. Pick the swing seating by the corner if you are double dating with your BFF. Oh, it's also by a pool.
Grooming To Shopping
If you are coming in for a meeting and in need of a quick hairdo, Eyecatchers should sort you out. The folks at the salon do anything from a blow dry to an all-out makeover. The shopping scene isn't all that big. In fact, there are literally only two places you can shop at. The third is a medical store, so we don't think you will be shopping there. The first one is an Imagine Apple Retail store. All you Apple users, you know what to do here. The other store is a floral gifting store by the name Fresh Knots. These guys specialise in bouquets, fresh flowers, fake flowers, vases, and basically everything that can be packaged as gifting. Maybe buy flowers before date night!
Go Co-Working
Flexible desks, dedicated desks, and private studios make up the two floors (with a third coming soon) of CoWrks, Eco World. Oh, and these floors are done up with plenty of quirky and highly Instagrammable artworks. You can spend a day working out of here in case you are meeting clients this side of the town or even inquire about the membership facilities and maybe start working out of here. In any case, you need to check out our favourite spot by reading about our day at CoWrks, Eco World here.
Comments