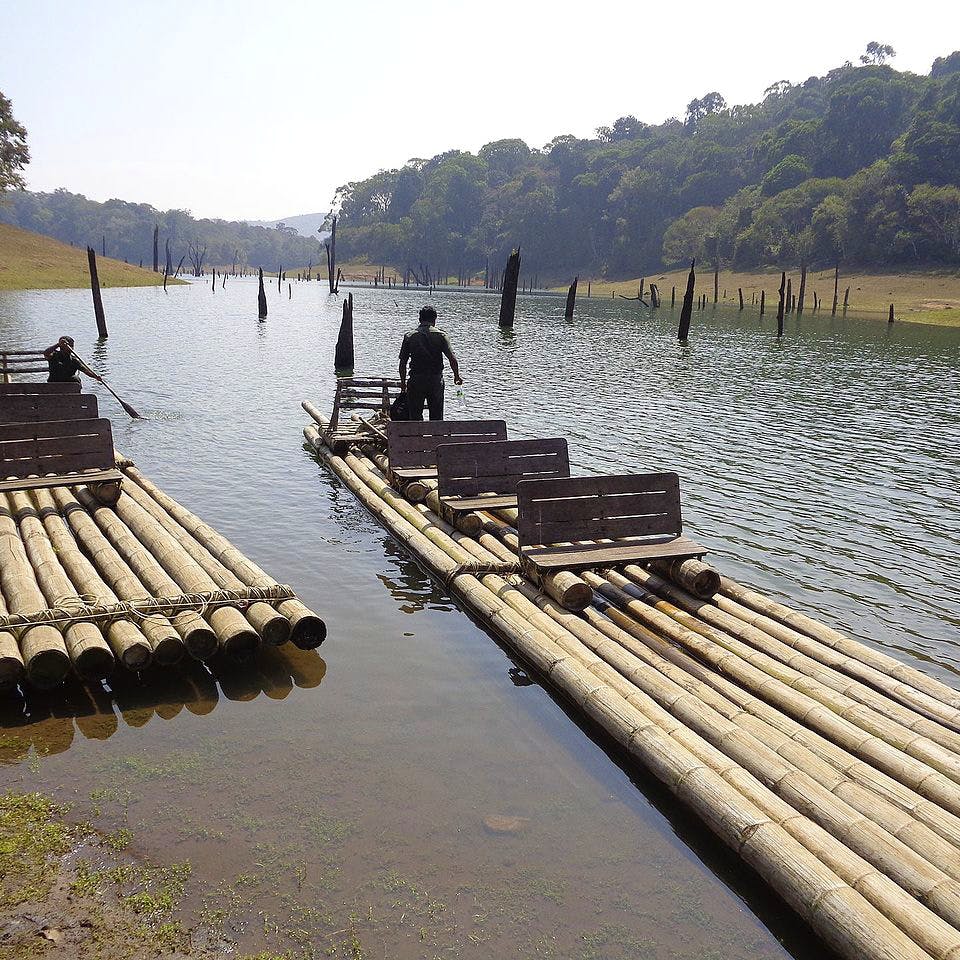 Spice Villages To Bamboo Rafting: 5 Things You Have To Do When In Thekkady
Often forgotten thanks to the popular big brother Munnar, Thekkady is the ideal destination for a proper feel of Kerala. If you want a blend of relaxation in the form of spa sessions, a hint of culture as well as adventure, book your holiday to this sleepy town, and the surrounding areas. Then just use this list of things to do in Thekkady as a checklist and have a marvellous time! Bring us back spice though!
Live The Jungle Life In Periyar
Located on the banks of the river Periyar, this wildlife sanctuary is an oasis of calm. Made up mostly of evergreen tropical trees and the only South Indian conifer, it's the ideal place to spot birds such as the Malabar grey hornbill, Nilgiri wood pigeon, blue-winged parakeet, the black baza and even the white-bellied blue flycatcher. If you're lucky, you could spot one of about 30 Bengal tigers that reside in this national park. Other animals that call Periyar home are the gaur, sambar, wild pig, Indian giant squirrel,and even the sloth bear. The lion-tailed macaque too is easy to spot here.

National Parks & Wildlife Sanctuaries
Spice Up Your Life At Murikaddy
Known as the spice terrace of Thekkady, a visit to a spice garden here is a must. Coffee, cinnamon, ginger, garlic, cardamom, vanilla and of course, pepper are grown here. We visited Abraham's Spice Garden for a tour, and were thrilled to learn plenty about organic vegetables, garden-fresh herbs and even pick some spices on his vast land. There's also a little gift store on the property to pick up spices, coffee and tea, and when returning from Kerala, no better souvenir than spices!

Take A Spa-cation
When in Kerala, one must always hit up the spas, right? And at Spice Village, it's a traditional Ayurvedic set up which will massage away your city woes! Located right at the mouth of the Periyar Tiger Reserve, this luxury resort is off-grid but amazing. Live in cottages with mud walls and thatched roofs, but with fancy amenities inside. Think four-poster beds, antique furniture to fall asleep on, and a patio to unwind at. Leave a day or two for therapies and relaxation, and one for using the lovely swimming pool and for a water safari.
Read more here.
Be Amazed By A Kalaripayattu & Kathak Performance
If you are slightly adventurous and cultural, you'd do well to visit the Kadathanadan Kalari Centre – The House Of Martial Arts. They have shows in the evening in a charming old-school gallery, from where you can watch two of Kerala's native performance arts -- Kathakali and Kalaripayattu. And this particular place allows you to take photos and videos too. Priced at INR 200 for an hour, it's hardly worth missing. After all, Kalaripayattu is said to be a martial art that dates back over 300 years! Go early, as the seats at the back aren't half as enthralling.

Go On A Bamboo-Raft Ride
What's a trip to Kerala without a cruise through the forests of Periyar on a rustic boat made from bamboo eh? To add to that, start out with a proper trek of the jungles to get a real feel of the tropical region. Start at about 8am and trek for a while until you reach the riverside; when there, get ready to relax on a bamboo raft and bob down the river for about three hours. If lady luck is shining on you, you can sight tigers, leopard, bears and plentiful birds. If you're running out of luck, just lie on your back and do nothing.

Comments