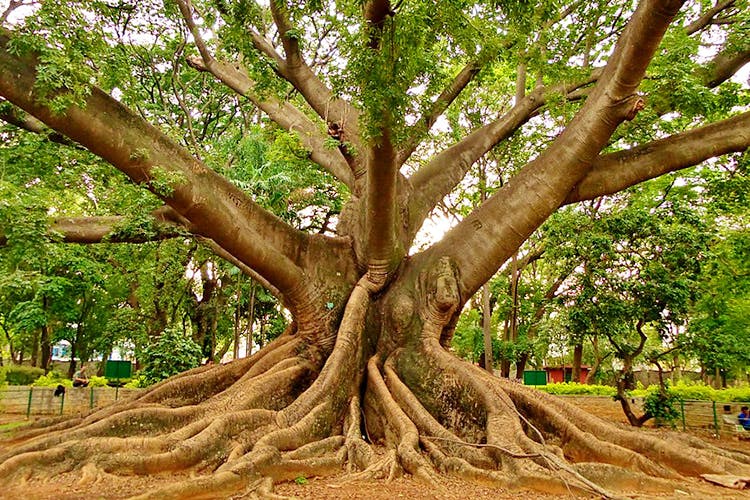 Nearest Metro Station:

Lalbagh
Grocery Runs To Photography: 5 Things To Do In And Around Lalbagh After Your Weekend Run
One of Bangalore's top tourist attractions, Lalbagh offers so much more than jogging paths and scenic views. The lush gardens are at least a couple of centuries old and while many locals still drop in for the sightseeing thrill or for a workout, you can do so much more here. From picking up fresh produce to honing your hobbies – here are five things you can do in and around Lalbagh.
Soak In The History
Commissioned by Hyder Ali in the 18th century, Lalbagh is home to many historical landmarks. There is the Glass House, for example. An elegant structure, the Glass House sits at the heart of the gardens and has been fashioned after London's Crystal Palace. It's been around since the late 19th century and is well-recognised. However, if you love history and architecture, there's plenty more that you can gawk at here. There's the Kempegowda Tower that sits on a hillock near the bonsai garden. Walk through the main entrance and to your left you'll find a series of buildings (these serve as administrative buildings now) that hark back to the Raj era.
Chill By The Lake
One of the best bits about Lalbagh is its lovely lake. After a gruelling run or workout session, we highly recommend that you park yourself at one of the benches that line the boundaries of the lake and watch the world go by. You can also spot ducks and other birds flit across the calm waters and also make quick dives.
Fill Up Your Grocery Bags
Want your exercise routine to go hand-in-hand with a healthy diet? Don't worry! Lalbagh will sort you out. You will find plenty of Hopcoms centres (the one behind the Glass House is popular) and farmer cooperative stalls (near the main gate) that sells fresh produce. Vegetables, greens, and fruits are all part of the mix here and you can get them at great prices. Prefer something organic? Cross the road from Lalbagh West Gate and you'll find a few vendors to help you out.
Pick Up A Hobby
Hobbyists love Lalbagh! On a weekend especially, you'll find the amateur photographers pointing their cameras to the garden's green abundance. Or you'll see artists trying to replicate the elegant arches of the Glass House on their sketch pads. And birding enthusiasts keep their eyes peeled to catch glimpses of the Lalbagh's rich avian life. Those of you who love gardening can also pay a visit to the nursery (near the Double Road entrance) that stocks a variety of flora.
Brekkie At MTR
No Lalbagh experience can be deemed complete without a trip the Mavalli Tiffin Rooms (MTR). After your run, this is the perfect place for a refuel and don't worry you can burn off a few extra calories while waiting for a table at this iconic eatery. Once seated don't think twice about ordering up plates of their Masala Dosa, Rava Idli and cups of their filter coffee.
Comments
Nearest Metro Station:

Lalbagh