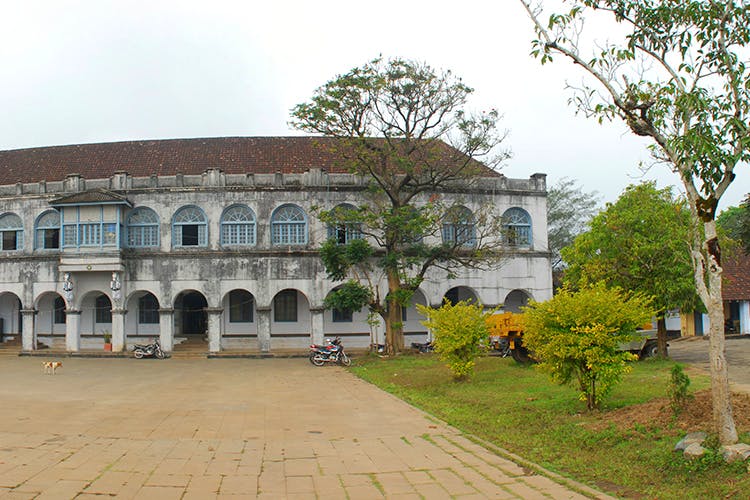 Heading To Coorg? Make Sure To Hit Up The Capital Town Of Madikeri
Ten-Second Takeaway
Experience acres of lush green estates, serene surroundings, pleasant climate, misty hills, orange groves and a lot more in and around the hill town of Madikeri. A perfect weekend getaway from Bangalore, this place is the heart of the Kodagu district. A perfect mix of historical, religious and natural attractions, you will be amazed at how much this little town offers. Here's my pick of what you should do when here.
Madikeri Fort
Constructed by Muddu Raja in the second half of the 17th century, Madikeri Fort was initially a mud fort. After some years, Tipu Sultan re-built it and renamed it as Jaffarabad. Made using brick and mortar, this fort has seen a lot of battles held in this region. The fort is home to a temple, a chapel, a prison, a few government offices and a few more structures. Don't forget to take pictures with statues of ancient dancers. Go on, strike a pose.
Abbey Falls
A known and a very famous tourist attraction, Abbey falls is located close to the hill town of Madikeri. The sight of river Cauvery descending down from a height of 70 feet is not only beautiful but utterly divine. There is a hanging bridge across the cleft for tourists to have an uninterrupted view of this beauty. But fair warning, don't even think about wading into the water. Flash floods are common here.
Raja's Seat
Spreading its beauty on the western end of Madikeri, Raja's Seat basically means the Seat of the King. This gorgeous garden endows you with a place where you can admire and enjoy the amazing views of encompassing hills and valleys. This place is also home to a small pavilion which can be visited to capture the view of the amazing sunset.
Spend A Day At Talacauvery
A trip to Madikeri is not said to be complete unless you spend some time at Talacauvery! Around 44 km from the center of Madikeri, the place has immense religious significance as it is said to be the birthplace of the holy Cauvery river. It is a 2-3 hours drive one side.
Where To Eat
The cuisine of this area can be easily defined with its non vegetarian delicacies and the fragrant rice known as Sannakki. Although, there are number of yummy food options for vegetarians as well. 
Pork is one of the main delicacy of this region and is available in different versions and preparations. Other things that you should not miss here is the Nool Puttu (a type of rice noodles), Aaki Oti (a chapatti made of rice), Baimbake curry and Kadambatru (rice balls).
Raj Darshan is a popular place for a full meal. Almost every roadside stall serves wonderful coffee. Chitra and Brahmagiri are the other favourite places that serve food at a reasonable price.
Where To Stay
I stayed at Hotel Mayura Valley view and the experience was delightful. Located close to the city centre, it is quite convenient to travel to different locations from this place. It has beautiful surroundings and great staff. You can look for other hotels around this area as per how much your budget.
How To Get There
Void of its own airport or railway track, the best way to reach this place is via road from Bangalore. You can rent a cab, take the multiple buses that leave every hour from Bangalore. Either way…ROAD TRIP!
Comments