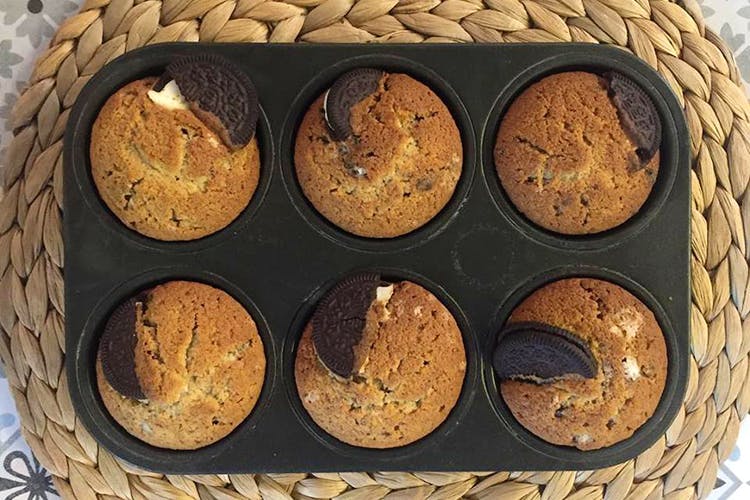 Nearest Metro Station:

Baiyappanahalli
Custard Bread & Red Bean Doughnuts: This Kalyan Nagar Bakery Specialises In Korean Flavours
Shortcut
After getting us hooked onto Korean food, Thran in Kalyan Nagar has now launched a bakery that stocks goodies inspired by the same region. Swing by for Sweet Potato Pie, Red Bean Doughnuts and Sweet Custard Breads.
Welcome To Korea
Home to a sizeable chunk of Bangalore's expat community, Kalyan Nagar is an excellent place to sample cuisines from around the world. And if you are looking to pamper your sweet tooth, on an outing here, and want to try something that's out-of-the-box, then, the Thran Bakery will serve you well. It's housed in the same building as Thran restaurant and is run by the same team.
The bakery itself looks like it's straight out of a picture book. Decorative tiles, rustic planters, vintage posters, and colourful stools make up the spot. But what will grab your attention, we bet, is the bakery counter itself. They bake fresh loaves of bread everyday but unfortunately they were all out when we visited. However, we had plenty to choose from. The glistening, crescent-shaped Sweet Custard Bread was downy and stuffed with a luscious, custard filling. We also loved the deep-fried Red Bean Doughnuts – that came stuffed with a crumbly, red bean paste. Both of these weren't too sweet, at all, which we liked.
Sweety Pie
We also sunk our teeth into the Sweet Potato Pie, not necessarily Korean, but still a delight to eat. The fibrous texture of the sweet potato combined with its inherent sweetness gave the pie an interesting taste. The bakery also stocks an array of muffins. Some made with Matcha Tea, others with Oreos, raisins, and chocolate chips. While we couldn't find too many faults with them, they were a tad on the drier side and not as exciting as the other eats the bakery had on offer.
Comments
Nearest Metro Station:

Baiyappanahalli