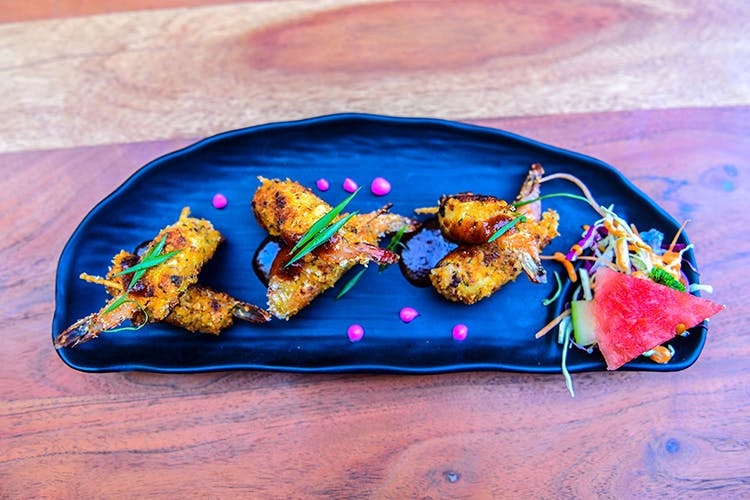 Get Your Mana On: You're In For A Tiki Time At This Polynesian Bar In JP Nagar
Shortcut
Head down to JP Nagar to experience Three Dots And A Dash 2.0. This outlet is bigger, better and has a menu full of our favourite Polynesian bites and booze.
The Good Life
What could be better than a tiki bar? Two tiki bars! Three Dots And A Dash has opened a second bar in the city and the new space is in JP Nagar. A lot bigger than its Indiranagar spot, this one feels like a Hawaiian island unto itself, complete with an outdoor space, vertical gardens, tiki decor and splashes of graffiti here and there. Done up with exposed brick walls and simple wooden chairs and tables, often mismatched, there's an easy breezy vibe here that makes it the perfect spot to kick it back in.
We started things off with a few cocktails. Pineapple Paradise, which came to us in an actual pineapple with a straw and cocktail umbrella, was a strong mix of Caribbean rum and pineapple juice, perfect for summertime. The Caribbean cooler, on the other hand, came to us in a coconut and was a boozy punch with vodka, rum, Blue Curacao and tender coconut water all in the mix. See, no need to buy plane tickets to Hawaii, as you can enjoy a slice of it right here.
Start Me Up
Moving on to food, their wide array of starters steal the show. From Peanut Tiki and Beet Beet Zing Kebab, for all you veggies, to Herb Crushed Fish Fingers and Chicken Wrapped Prawn, there's a lot to choose from. There's even a Cottage Cheese Tikka, which were pillows of soft paneer coated in a spicy marinade and grilled on a tandoor, if you're in the mood for something desi. The Beet Beet Zing Kebab was a nice beetroot kebab that had a fiery kick, which we didn't see coming.
However, the non-vegetarian options take top prize (sorry vegetarians). The Herb Crusted Fish Fingers were nice and crispy on the outside and soft, tender and juicy on the inside and the Chicken Wrapped Prawn was just as delicious as you'd expect, with crunchy prawn wrapped in lightly spiced chicken bits. They even served us a Polynesian Baked Fish, which were tangy chunks of basa (unfortunately), wrapped in banana leaves for a coastal touch.
The Main Event
Our main was a meaty lasagne, which was a nice Continental shift. And for dessert, we tucked into a truly indulgent Nutella Banana Empanada with vanilla ice-cream on the side. Watching the Nutella ooze out as you cut your empanada into bite-sized bits is almost as satisfying as eating the dish. Quite the sweet treat, these were a fitting end to our meal.
If you're thinking of dropping by, we recommend coming here in the evening as it's all lit up then. And if you can score a seat in their al fresco space there's nothing like it.
Also On Three Dots & A Dash
More Information
Three Dots & A Dash
Wi-Fi Available

Nearest Metro Station: Jayaprakash Nagar
Comments