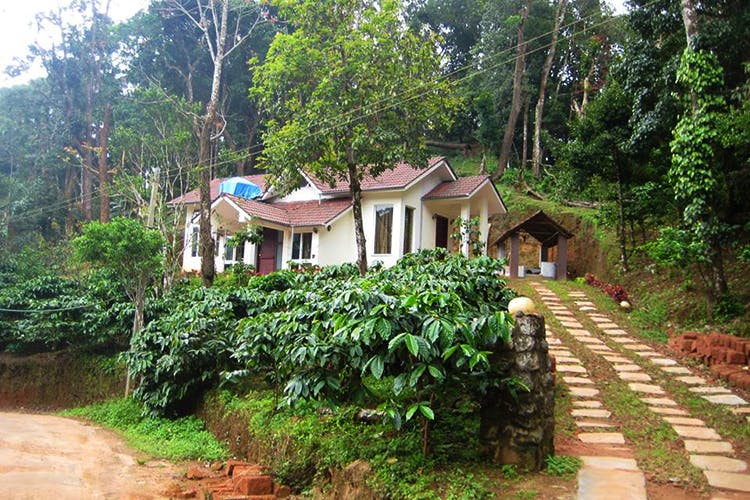 For Less Than 3K, Cosy Up With Bae At This Coorg Homestay That Comes With Ponds And Forests
Shortcut
Heading to Coorg this Independence Day weekend? Shack up at the serene Three Hills property that sits among lush forests and plantations in Madikeri. The ponds and streams add to the prettiness.
Hot Property
Popular with the crowds, Three Hills sits amidst lush surroundings in Madikeri and makes for the perfect escape from the city. The boutique homestay sits on 50 odd acres and is dotted by gurgling brooks and not less than three ponds. For about INR 2,800, you can book a cosy room that's perfect for a couple on a romance-filled holiday.
Want to take it up a notch? You can sign up for their charming wooden cottages or villas that come fitted with all the modern amenities and also offers sweeping views of the breathtaking scenery. After a romance-fueled night, you can sit by and watch the duckies glide about the pond, at the edge of your room.
A Slice Of Serenity
Three Hills is a getaway perfect for those who have relaxation on their minds. If frantic sightseeing is part of your itinerary then it makes more sense to book a room closer to the city. But that doesn't mean that there's nothing to do here. You can go on lingering treks through the thick plantations and the surrounding jungles. They even arrange coffee tours.
For the angling enthusiasts, you can try your luck at the ponds. Or you can simply just amble along the stream and dip your feet. In the evenings, you can stop by a bonfire and spend your time counting stars. There's also a restaurant on-site where you can gorge on Coorg delicacies.
Ask Navya a question