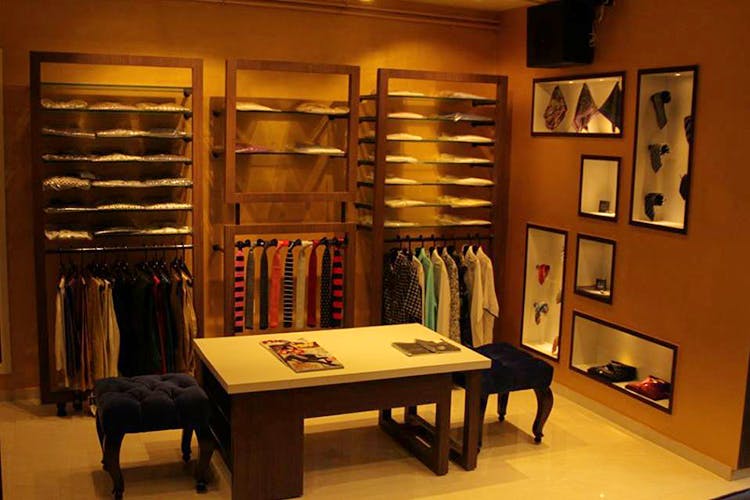 Men, Hit Up These Stores In Town For That Perfect Suit
A good suit is a staple that should be in every man's wardrobe. If that's missing from your wardrobe or the one that you wore for your graduation no longer fits you, not to worry as we have got you covered. Our list of top men's suit makers in Bangalore will fix you up with the right kind of suit for a business day, lunch with the boss, your (or someone's) wedding, and even those notorious black tie events that we always skip. As Barney Stinson says, 'Suit up!" with our handy guide!

Paresh Lamba Signatures
A go-to for all things designer for men, Paresh Lamba Signatures' studio on MG Road will fix you up with suits that channel those Kingsmen vibes. A suit for every occasion is what you can get here custom made to the last detail. So if you prefer double breasted or those slim lapels, Lamba and his team of designers will leave you feeling like the next Bond. But more on that and his wedding collection here.

108 Bespoke Studio
Consider the spiffy studio on Indiranagar's 100 Feet Road to be your own personal suit guy. You can pick up designs from their catalogue or if you have something in mind, say those slick three-pieces that Steve McQueen wore in Thomas Crown Affair or even Daniel Craig's entire suit collection in all the Bond movies, consider it done. They will also fix you up with shirts, trousers, and blazers too, but more on that here.

Uncuffed
Custom Engineered Suits are what the folks at Uncuffed do best. Unlike the other stores on this list, all you need to do is hit them up on their social media channels for an enquiry. Post that they'll call you to get your exact requirement and fix up an appointment. The best part? You don't need to go anywhere, they'll come to you. Think sharp suits like Ryan Gosling wore in Crazy Stupid Love, especially that burgundy one or those wide peaked lapel style that Colin Firth wore in The King's Speech.

Murako Clothiers & Outfitters – Textiles & Tailoring
We are convinced that this would have been Barney Stinson's suit guy if Barney was living here. The iconic suit store in Commercial Street has been fitting all the men in Bangalore with custom suits that have been perfectly crafted right down to the last millimetre. Trust them to make you look spiffy, men. From Richard Gere's look in American Gigolo to Sean Connery's Conduit Cut or dinner suit in Dr. No, these guys will make the suit of your dreams.
Bassam Apparel Studio
Think Henry Cavill's slick suits in The Man From U.N.C.L.E when you think of Bassam Apparel Studio. The Cunningham Road suit studio takes trends into serious consideration when they are crafting the perfect dinner or work suit. In fact, they will fix you up with just blazers or the whole three-piece suit. Choose fabric from them and the design can be either yours or theirs.

Ask Sreepathy a question