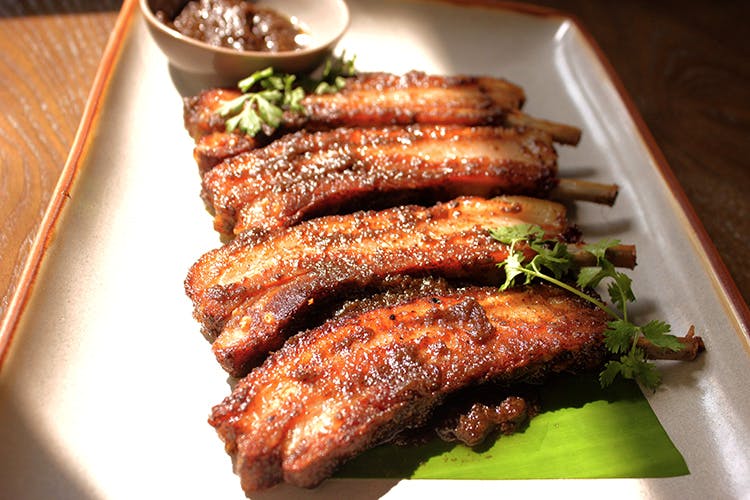 Guntur Chili Cocktail And Okra Podi Chips: Go For This Sunday Brunch With The Gang
Shortcut
If you're looking for an unpretentious brunch that has unlimited drinking and eating scenes, in the centre of town, The Permit Room's Sakkath Sunday Brunch should be your BFF.
What Makes It Awesome
I love this place at best of times, but when all the menu favourites are made into a set brunch menu, and there's unlimited amounts of food and copious amounts of alcohol on offer, it's an all-round win. We kicked things off with South India's original Chilli Chicken that was the inimitable Andhra (Telangana?) spicy. For comfort food, there was the Nazami Haleem samosas and Chilli Cheese Bhajji (my favourite). Not one to like offal too much, I was pleasantly surprised by the Brain Dry Fry that came enclosed in a money bag pastry parcel. Great suggestion, Chef Kavan Kuttappa.
On his suggestion, I also ordered the Guntur Liquid Chutney — a refreshing blend of vodka, mango juice and vanilla syrup to balance the Guntur chilli that is also popped into the glass. More, please! Vegetarians, don't fret. There's Okra Podi Chips (sinfully fried and yummy), Cheesy Onion Samosa and Cheesy Gunpowder Fries among others. For something cooling, the Urban Kosambari salad will do the trick. But the Cubbon Park Salad is high on taste and nostalgia. Bringing together all the snacks that you can buy from vendors at the park, this one has crushed cucumber, baby corn, peanuts, bhel puri muri, tomato and lettuce for style — this is a delicious throwback.
Of course, by this time, both my dining partner (father dear, on this occasion) and I were already in food coma. But bravely, we ordered the Naadan Kozhi Curry which we mopped up with flaky Kerala paratha, and the very interesting Bhatkal Coastal Semiya biryani. Do not leave without eating the Filter Kaapi Pot De Crème, a dessert that comes in a pot or coconut shell that's like a version of Crème Brulee but with a hit of coffee and jaggery.
What Could Be Better
It can get very crowded on Sundays, so book a spot. In the summer, the rooftop also gets rather warm.
More Information
The Permit Room
Wi-Fi Available

Nearest Metro Station: M.G. Road
Comments