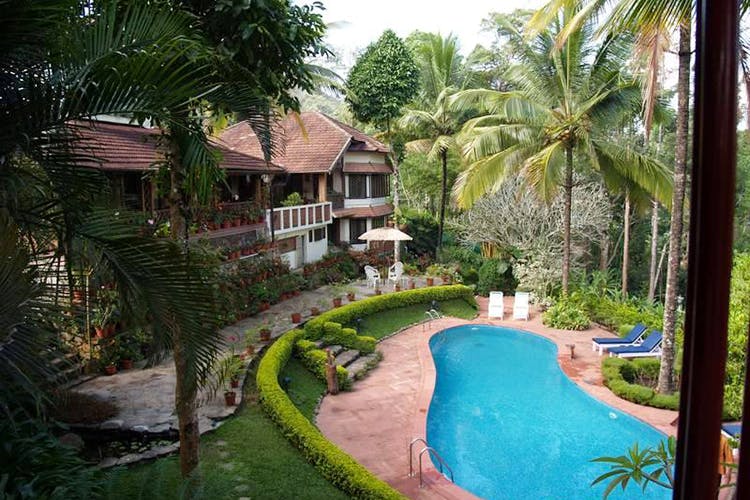 Live In A Tree House And Get A Massage By The Pool At This Gorgeous Homestay In Wayanad
Shortcut
Unwind in the luxury of Tranquil Resort, in Wayanad, that ticks off all the holiday boxes. Including tree house, swimming pool and bird watching.
The High Life
Who cares if you didn't make it to the Amazon or Bali or other tropical destination this summer. Just pack your bags and head to Tranquil Resort, in Wayanad, that will give you exactly those feels for a fraction of the cost. We cannot get enough of their tree house suites that are truly magical. Our favourite is the Serenetree Tree Villa which has one massive bedroom up in the trees, that is ideal for a couple, and two kids. Or even for a tight-knit group of friends. All you third-wheeling pals, yup, we're looking at you! With two bathrooms too, it's quite convenient for a group of four. There is also the Tranquiltree option, which is great for a cosy couple and no extras! But the views of from this one are a tad better than Serenetree. They do offer luxe cottages, but they're on the ground. And when there's the literal high life to live in the trees, the earth homes don't seem as exotic. Nevertheless, stay there if you have kids under 8 for safety and comfort. After all, they do have easy access to the lovely swimming pool. In the humid climes of Wayanad, that is the next best spot at this fine plantation!
Plantation Diaries
When you decide to leave the swanky treehouse, or the addictive swimming pool (and the Jacuzzi beside it!), make sure to wear your trekking shoes, grab your binoculars and camera, to tour the plantation. We love that the folks at the homestay have chalked out 13 walks around their 400-acre property. So you can pick the one most suited to you and your fitness levels. With names like Teaser and Braveheart, you'll know which one is which! After feasting your eyes on over 100 species of bird (if you are lucky), spotting mangosteen, lychee and avocado trees, and getting a view of the surrounding jungle areas, a massage will be in order. Can't say no to a traditional Kerala massage, can you! Food is had at a communal table, and this is the ideal time to chat with fellow holidaymakers as well as the couple, who call this homestay home — Ajay and Nisha. We hear the gin and tonic that follows most conversations, is top notch too!  
Comments