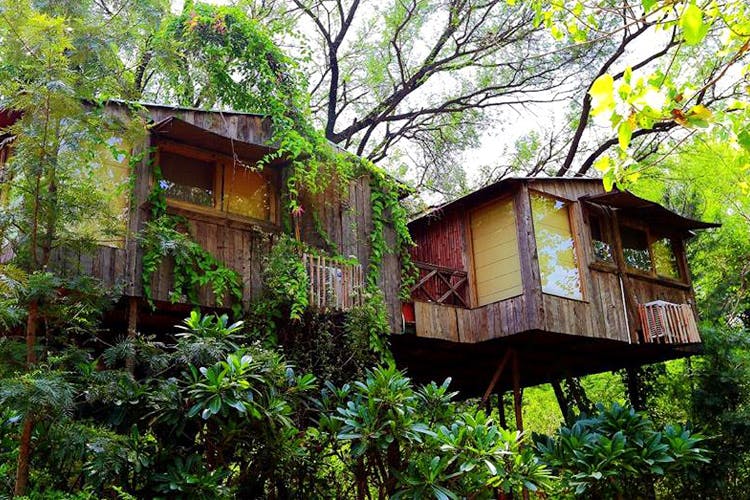 Live The High Life: Tree House Resorts Around The Country For Every Budget
Admit it: you still fancy living in a tree house and the Swiss Family Robinson's home makes you want to build something similar. If you're vigorously nodding, then you're much like us. Which is why, we went hunting high and higher, for the best tree house resorts across the country. From the luxurious ones with all-round glass to rustic versions perched on single trees, here's the LBB pick of tree house resorts that reach greater heights.
The Machan
Who wouldn't want to get away from the mayhem of the city and escape to a place nestled in the hills of Lonavala? The entire property is set on wooden walkways, so you literally walk above ground level at all times. Pick from five different tree houses including the basic one – Sunset, which is really not too basic with a loft suite, private deck and an open-air shower. If you're up for a splurge, stay at Heritage which has two balconies, a charming spiral terrace which leads to our personal favourite place – the Hanging Room, which is suspended from the main house, with only glass for walls.
Price: INR 12,000 upwards per night.
Vythiri Resort
The luxury eco-friendly forest getaway, which we raved about here, is also highly recommended because of it being smack in the centre of Wayanad. While they do have cottages on the ground, the five Tarzan-style rooms are highly recommended here. Splurge and pick the family tree house which has two floors of dreamy living – with a tree going right through the living room too!
Price: INR 16,000 upwards.
Treehouse Hideaway
Considered the first in the country, Pugdandee Safari's Treehouse Hideaway in Bandhavgarh is where you should hit up for a majestic view. Spread over 21 acres, the property has five tree houses from which you can not only tower over the canopy of forest, but also hope to spot tigers in all their glory. Interestingly, the hideaways—Mahua, Tendu, Peepal, Banyan and Palash—are named after the trees on which they are built.
Price: INR 27,000
Vanya Greenwoods Resort
Closer home in Thekkady, the Greenwoods Resort is great for the more adventurous. You need to trek up the face of the hill to get to the lone treehouse at the top. Built on a single tree at about 18 feet above ground level, you'll literally be in the cradle of nature, as it even gently sways when there's strong winds.
Price: INR 12,000 upwards
Tree House Resort
Perched atop Keekar trees in the Aravalli Mountains in the Syari Valley, this one takes luxury to a whole new level. Don't think that it's only castles in the air though, as you do get your rustic feel, albeit with a glass of wine and sushi to go!
Price: INR 16,000 for deluxe nests.
Nature Zone Resorts
In the picturesque Munnar, these treehouses are built on living trees and have a dramatic feel to them. Long, winding wooden paths, also above ground, lead up to your front door while the insides have a 360 degree view thanks to ceiling-to-floor windows all around. A definite vantage point for those interested in taking in nature in its glorious manifestations, these ones keep things simple – rustic but with modern amenities.
Price: INR 10,000 upwards
Rainforest
In Athirapally, the Sholayar rainforests are your best friends here. While the entire resort is a luxury one and comes highly recommended, the tree house will surprise you. Once you get over the chic interiors that fuse nature and modern amenities, head to the balcony for a breath-taking view of the thundering waterfall in your backyard – worth every penny!
Price: INR 16,000 upwards
Safari Land Resorts
Mudumalai is host to another tree house resort, and this one has plenty on offer. From the honeymoon one and the family kinds to the Skyscraper (intimidating this one!) and the more exclusive ones, these rooms are worth it just for the view of the looming Nilgiris. Plus, a babbling brook running past the stilts the cottages are set on. Just thinking about waking up to birds, sipping coffee as deer play below you and watching the rain from a height makes us want to take off.
Price: INR 4,000 upwards
Comments